You can, from within QuickBooks Online Accountant (QBOA), request documents you need from your clients. When you do so, QBOA generates an email, sending it to the client for you; in addition, QBOA helps you track the status of the document request. To request a document from a client, follow these steps:
Display your Client List page.

That is, make sure you have not opened a particular client.

On the QBOA toolbar, click the Create button and, from the Create menu that appears, click Request.

QBOA displays the Create New Request screen.

Creating a document request.

From the list box at the top left of the screen, select the client QBO company from which you need documents.

QBOA fills in the username associated with the client QBO company.

Optionally, type a due date for receiving the documents.

Including a due date can help you assign some urgency to your message and might help make your client react more quickly.

If prompted, type the client's email address.

Type a subject for the email message.

Type any message or questions in the box below the subject.

Attach any files you need to send to the client.

List any documents you need from your client.

The right side of the screen shows a preview of the email message the client will receive.

Click Send Request.

The first time you send a request, QBOA prompts you to set up a Box account, and you see extra screens not shown here; on the first one, click Turn on Box, and on the second one, click Grant Access to Box.

QBOA sends an email to your client, requesting the information you specified.
You can check the status of your request at any time; when your client sends you any requested document, QBOA notifies you. To check the status of a request, display the Client List page of QBOA and click the client's name in the list. QBOA displays details for the client, organized on four tabs. Click the Requests tab; information about your request appears onscreen.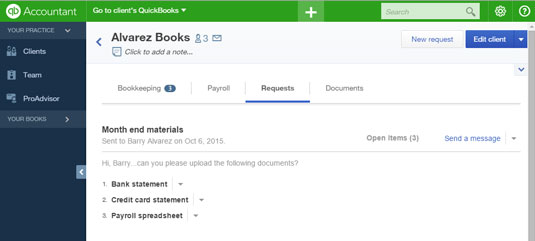 Track your document requests.
Any documents your client has sent appear with a green check beside them; you can click the Documents tab to see a list of all shared and private documents.
About This Article
This article can be found in the category: