A leader tab shows a series of dots or other characters where the tab appears on the page. Press the Tab key in Word 2016 and the insertion pointer hops over to the next tab stop. The space added is empty, but it doesn't have to be. Word lets you apply different styles to the empty space, which help create something called a leader tab.
Three styles of leader tabs are available: dot, dash, and underline, as illustrated here.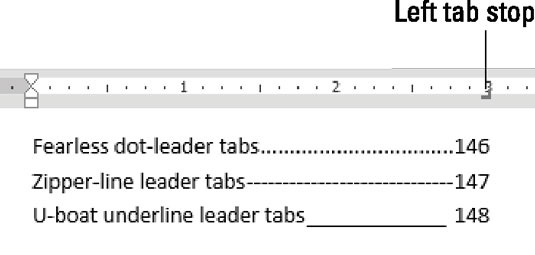 Leader tab styles.
You can apply a leader to any tab stop in Word other than the bar tab. To do so, follow these steps:
Create the tab-formatted list.

Select the text as a block.

Bring forth the Tabs dialog box.

The quick shortcut is to double-click a tab on the ruler.

Select the tab stop from the Tab Stop Position list.

In the Leader area, choose the leader style.

Click the Set button.

Don't click OK before you set the tab stop to add the leader. This step is the one you'll screw up most often.

Click OK.

The leader is applied.
Use the underline leader tab to create fill-in-the-blank forms. In the Tabs dialog box, set a left tab stop at the far right margin (usually, 6.0 inches). Choose the underline leader style (number 4). Click Set and then click OK. Back in your document, type a tab to create a fill-in-the-blank line, such a:
Your name:
This format is far better than typing a zillion underlines.
About This Article
This article is from the book:
This article can be found in the category: