Just to keep you on your toes, Word 2016 offers multiple ways to view your document. The blank area where you write, which should be full of text by now, can be altered to present information in a different way. Why would you want to do that? You don't! But it helps to know the different ways so that you can change them back.
The standard way to view a document is called Print Layout view. It's the view shown when Word normally starts. A virtual page appears on the screen, with four sides and text in the middle. What you see on the screen is pretty much what you'll see in the final results, whether printed or published as an electronic document.
The other views are
Read Mode: Use this view to read a document like an eBook. The Ribbon and pretty much the rest of Word is hidden while in Read mode.

Web Layout: This view presents your document as a web page. It's available should you undertake the dreadful possibility of using Word as a web page editor.

Outline: This mode helps you organize your thoughts.

Draft: The Draft view presents only basic text, not all the formatting and fancy features such as graphics.
To switch between Read Mode, Print Layout, and Web Layout views, click one of the View buttons, found in the lower-right corner of the Word program window.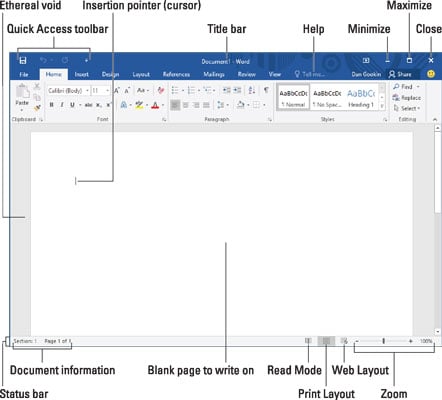 The View buttons are shown in the lower right corner of the Word 2016 program window.
To get to Outline and Draft views, as well as to see all View modes in one location, click the Views tab and choose a command button from the Views group.
About This Article
This article is from the book:
This article can be found in the category: