Each SharePoint app comes with at least one view, the All Items view, which is a public view available to app users. Document Library apps start with the All Documents view. Certain apps come with several more predefined views, such as the Discussion Board app, which has special views for showing threaded discussions.
You use the SharePoint Ribbon to access the options for changing an app's views. The List tab under List tools (use the Library tab under Library tools in Library apps), is where you can see the commands available for changing the current views or creating new views.
You can easily switch among views in an app. The current view is displayed at the top of the page, and additional views are displayed next to it with links to those views. Just to the right is an ellipsis for modifying or managing the views in SharePoint.
Anyone with Design and Full Control permissions (Designers and Owners) can make Public and Personal views for the app. However, Site Members (Contributors) can create only Personal views for their own use.
Use a view instead of folders. When you organize files on your network, folders are the predominant method of subdividing your content. In SharePoint, you gain great power in using columns in combination with views to hide or show what users need to see.
Folders take extra effort for the user to drill down and then navigate back up to look for other content. Views coupled with built-in sorting and filtering header options enable the user to easily and quickly find different content by toggling back and forth between views.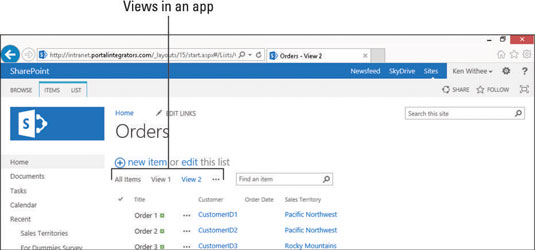 About This Article
This article is from the book:
This article can be found in the category: