You want to display your SharePoint app data with other text and Web Parts in multiple locations, such as team site home pages, Web Part pages, or publishing pages. In these situations, you don't want your users to interact with the app itself with all the editing options. You just want them to see several columns to access a document or view an item.
Each app generates a Web Part that can be used on SharePoint pages. Each of these Web Parts has a Properties panel that allows you to change the view in that instance of the Web Part.
Predefined SharePoint apps may have specific views that are defaults for Web Parts (for example, the Announcements app has a special default view that can't be re-created in the browser for other apps). Custom apps generally show all columns when first generated.
After selecting the Edit Web Part command on the Web Part, you can use the Selected View drop-down list in the Web Part Properties panel to apply another view, or you can also click the Edit the Current View hyperlink to modify the view on the fly.
Depending on the complexity of your choices, creating a view first to apply to the Web Part(s) may be a better long-term maintenance strategy.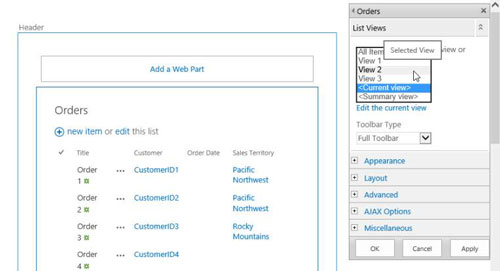 About This Article
This article is from the book:
This article can be found in the category: