One cool thing you can do with Web Parts in SharePoint 2016 is connect them to each other. This allows you to use one web Part to filter the values of another Web Part. This is a very powerful feature that allows you to create useful, data-driven web pages in your team site.

Follow this process to connect two Web Parts:
Add both the Web Parts you want to connect to your web page. For example, you can create a custom app called Customers based on the Custom List app. Assume the Customers app contains a column for customer name and a column for customer city. You can then add the associated Customers Web Part to the page along with a SharePoint List Filter Web Part. You must first select the SharePoint List Filter Web Part to which you want to associate the list by selecting the list on the Web Part property window along with the identifying column that needs to be filtered. You must set and save this selection before the Send Filter Values To choice in the Connections menu will be enabled.
Click the drop-down arrow on the SharePoint List Filter Web Part, choose Connections → Send Filter Values To, and then choose the name of the Customers Web Part you want to filter. The Choose Connection dialog box appears. The Choose Connection tab displays the connection type that you selected in this step.

Choosing which Web Part to filter.

If you don't see this dialog box, make sure your web browser is allowing pop-ups from the site.

Click the Connection Type drop-down list, choose Get Filter Values From, and click the Configure button. This is the field that has the set of values you want to match from your filtering Web Part. To filter a Customers list Web Part with a City column, you choose the City field as the Consumer Field Name.

Select the field that contains your filter values.

Click the Finish button. The connection is established.
On the Page tab of the Ribbon, click Stop Editing. The page exits Edit mode. As you select values in the filter Web Part, the connected Web Part is filtered accordingly.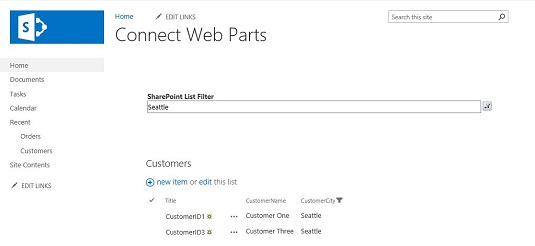 A filtered Web Part.
About This Article
This article is from the book:
This article can be found in the category: