The Calendar and Gantt views in SharePoint 2010 offer new options on the View Definition page. To create a Calendar view in SharePoint 2010, you must have at least one Date field in your list. The predefined SharePoint Calendar list, not surprisingly, uses this view as its default. A Calendar view helps users visually organize their date-driven work and events.
To create a Calendar view in SharePoint 2010, start as you'd begin to create a Standard view, but select the Calendar View. Like the Gantt view, you see new options on the View Definition page. You have a section for Time Interval, where you select the date column to use as the Begin and End fields for the view.
You also have selections to make for Calendar columns including Month/Week/Day Titles and Week/Day Sub Heading Titles (optional). Choose the column of data you want visible on those days in the different calendar layouts.
There is also a scope option for the default display — Month, Day, or Week. As expected, several options aren't available for Calendar views including sorting, totals, item limits, and styles; however, filtering choices are important and often used with Calendar views.
To create a Gantt view, your list needs to contain task/project management information relative to that view format. The predefined SharePoint Tasks list contains these types of columns, including Title (task title), Start Date, Due Date, % Complete, and Predecessors (optional).
The View Definition page includes Gantt view options not seen in other views based on the five columns mentioned previously.
The Gantt view is a split view, where you see a spreadsheet of data on the left and the Gantt chart on the right. A split bar between the two views can be moved by users to see more or less of one side.
Unlike Standard or Datasheet views, the column headers don't allow you to sort or filter the data but do allow you to hide or configure the columns shown. You can create a custom list or modify the Tasks list to add more columns for this spreadsheet side if you wish.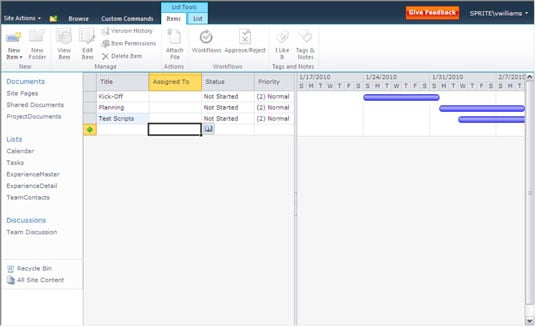 About This Article
This article can be found in the category: