To view or change the configuration settings of your library or list, use the SharePoint 2010 Library Settings or List Settings page. To access the Library/List Settings page, follow these steps:
Navigate to your library/list by clicking the Title link on the Quick Launch toolbar (if it shows in the Quick Launch).

You can also locate the list by clicking the View All Site Content link on the Quick Launch toolbar or choosing Site Actions→View All Site Content.

Click the Library or List tab under the Library (or List) Tools tab.

Locate the Settings section, which should be on the far right with Library Settings, Create Column, Library Permissions, and Edit Form Web Parts icons.

Click the Library (or List) Settings button.

The Library or List Settings page appears.
The Library (or List) Settings page is divided into several sections. Each section contains many configuration choices. Spend some time browsing this page.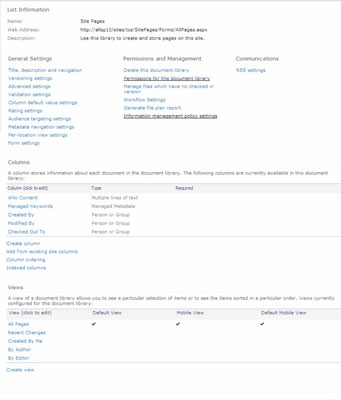 Some of the sections you see include:
List Information: Displays the library (or list) name, web address, and description.

You can change the list's name and description by clicking the Title, Description and Navigation link in the General Settings column.

The web address is set to the list's default view. Change the default view by scrolling down to the Views section of the Library (or List) Settings page.

General Settings: Includes Title and Description as well as Versioning, Advanced, and Rating settings.

Permissions and Management: Includes saving the library/list as a template as well as Permission and Workflow settings.

Communications: Configure RSS and incoming e-mail settings for the library or list.

Content Types: If you have configured your library/list to allow for content types, a Manage Content Types section appears. Use this section to associate content types with your list or library. With content types, you can reuse columns across sites as well as across lists and libraries.

Columns: View, add, and modify columns for the library or list.

You can create your own column for that list only, add a site column from the preconfigured SharePoint site columns, or create a new site column of your choosing that can be added to multiple lists.

Views: Display and modify the library/list views. You can also create new views.
Many site owners never change the default settings options; some simply change the title or delete the list. For others, this level of optional setting detail is what they want to know first! Microsoft supplies descriptions on the how and/or why to use the settings on each of the individual settings pages; however, there are so many options to remember!
About This Article
This article can be found in the category: