The Themes group of the PowerPoint 2016 Design tab lets you select a theme to apply to your slides. PowerPoint 2016 comes with a ton of carefully crafted themes that give a professional look to your presentations. If you're somewhat artsy, you can design your own themes, as well.
A theme is a set of design elements that are applied to one or more slides in a presentation. Each theme includes several basic components:
A set of colors that work well together. Each theme has four colors that can be used for text or backgrounds and six colors that can be used for accents.

A set of fonts that looks good when used together. Each theme has a font used for headings and a font used for regular text.

A set of background styles, which are a combination of background colors and effects such as patterns or gradient fills.

A set of design effects, such as line and fill styles and line styles.
Office ships with 21 predefined themes. These themes are named as follows:
Office Theme

Facet

Integral

Ion

Ion Boardroom

Organic

Retrospect

Slice

Wisp

Banded

Basis

Celestial

Dividend

Frame

Mesh

Metropolitan

Parallax

Quotable

Savon

View

Wood Type
Each of these 21 themes is available in for color variations, which yields a total of 84 distinct theme variants you can apply to your slides.
To apply a theme to an entire presentation, simply click the theme you want to apply in the Themes group on the Design tab. If the theme you want to apply isn't visible, use the scroll buttons on the right side of the Themes group to display additional themes.
When you have selected a theme in the Themes group, variations on the theme will appear in the Variants group. You can then click on one of the variants you want to use.
To see a preview of how your presentation will appear with a particular theme, hover the mouse over that theme in the gallery. After a moment, the current slide momentarily appears formatted with the theme. If you move the mouse off the theme without actually clicking the theme, the current slide reverts to its previous formatting.
You can click the down arrow in the scroll bars in the Theme gallery, which displays an expanded list of themes, as shown here. As you can see, this window displays PowerPoint's built-in themes and also includes links that let you browse for additional themes. A link even lets you save the current combination of theme elements as a new theme.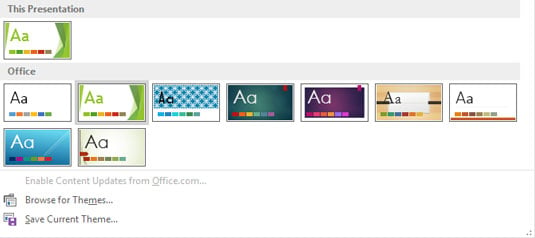 The Theme gallery.
Not all the slides in a presentation have to follow the same theme. To apply a theme to a single slide — or a set of slides — select the slide(s). Then, right-click the theme you want to apply and choose Apply to Selected Slides.
About This Article
This article is from the book:
This article can be found in the category: