Office Online is great for everyday work, especially for millennials who are accustomed to using a variety of Internet-connected devices running on different platforms. It runs on all major operating systems and web browsers.

If you're a company that wants to foster a culture of collaboration and cooperation (who doesn't?), then Office Online is a great solution to add to your toolkit.

You can also save on licensing costs with Office Online. If you have workers out in the field or assigned at retail stores who don't need the full-fledged version of Office, you can assign them a cheaper license for access to just Office Online such as Office 365 Business Essentials or Office 365 E1. You can even save money on company-issued devices by allowing your employees to use their own devices to run Office Online.

Security features in the Office desktop applications such as SafeLinks are also available in Office Online. SafeLinks is a feature that proactively protects users when they click on malicious hyperlinks inside an Office document.
Boosting team collaboration with Office 365, intelligently
You always start at Office.com access Office Online. From there you can run any of the online apps: Word, Excel, PowerPoint, OneNote, and Outlook.

Core authoring features in Word include table of contents, spell check, grammar check, picture editing (rotate, crop, drag and drop), numbered lists, bullet lists, and more. You can even have smileys as your bullets!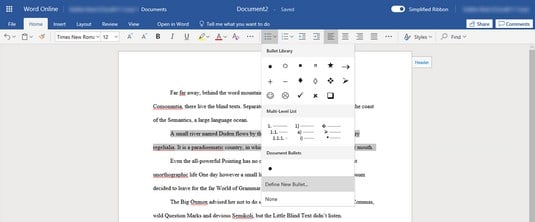 Use smileys as your bullets.
In Excel, conditional formatting, pivot tables, shapes, freeze panes, clear formatting, cross-sheet copy/paste, find and replace, and improved printing are supported.
Creating professional presentations no longer requires the desktop version of PowerPoint. The online version supports copying and pasting slides across presentations, image effects, format painter, the ability to select multiple slides and add charts from Excel, contextual spelling, animation markers, animated GIFs, improved tables, and more.
Office Online has also gotten smart. Unlike the previous version, your documents in Office Online now open in Editing Mode so you can immediately start working on the document. And the Share dialog box in Office Online works the same way as the desktop version.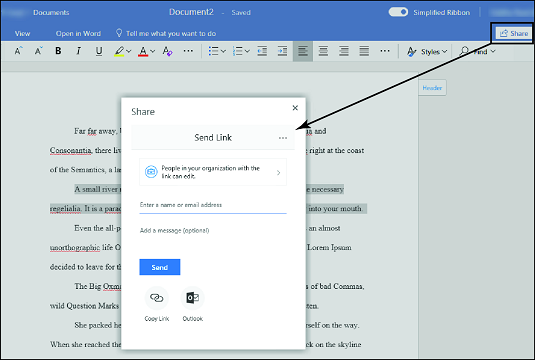 The Office Online Share dialog box.
Intelligent services delivered through artificial intelligence (AI) and machine learning have always been available in Office Online. These services save time and make us not just seem smart but actually become smarter. For example, spell check is something available and commonly used in Word. And Microsoft's addition of grammar checking was a great boon for non-native English speakers.
Recently, Microsoft added writing assistance so not only does the intelligence service check for spelling (indicated by a red squiggle) and grammar (shown with a blue double underline), it also checks for clarity and conciseness (shown with a dotted underline).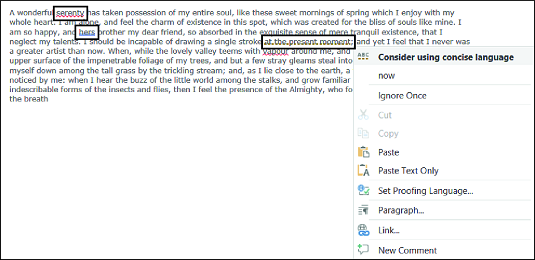 Intelligent services in Office Online help you improve your writing.
Keeping malicious actors at bay in Office 365
Office 365 Advanced Threat Protection (ATP) is a security feature in Office 365 E5 or A5 plans. If you have other plans, Office 365 ATP can be purchased as an add-on.

Office 365 includes ATP Safe Attachments and ATP Safe Links to help protect your organization from malicious actors. ATP Safe Attachments ensures that email attachments are safe, whereas ATP Safe Links makes sure links to websites in email messages or embedded in Office documents do not result in a breach.

In Outlook Online, you may receive an email from someone who is trying to harvest your credentials through an infected attachment. With ATP Safe Attachments, that attachment is detonated in a virtual machine before it reaches your mailbox. If it's a safe attachment, then you will see it in your email. If not, the attachment will be removed automatically from the email with a notification to inform you that a malicious attachment has been removed. This all happens very quickly, within minutes and even seconds, so it doesn't impact your productivity. If Microsoft needs more time to analyze the attachment, your email will still be delivered immediately with a notification that the attachment is still being analyzed.

ATP Safe Links, on the other hand, protects you by checking web addresses (URLs) in real-time every time you click on a link in your email or in an Office document. Verifying the web address at the time of click is important because hackers can redirect a once-safe URL to a bad URL. Just as ATP Safe Attachments detonates attachments, ATP Safe Links detonates URLs in a virtual machine when you click on them to determine whether or not the destination is safe. If it is, then you are taken directly to the website. If it's not safe, you will be blocked and presented with a notification.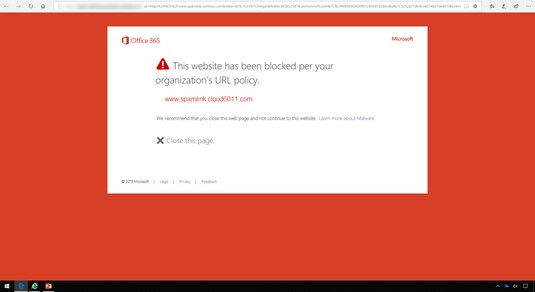 ATP Safe Links blocks bad websites.
Don't confuse Office 365 ATP with Windows Defender ATP, which is a separate set of security features in Windows 10. Using the power of AI, machine learning, and behavior analytics, Windows Defender ATP helps prevent, detect, and respond to attacks. If used together with Office 365 ATP, your organization will gain a much more enhanced security posture.
Experiencing Office Online
Since it first debuted in Office 2007, the ribbon interface has gone through several updates. In June 2018, Microsoft rolled out yet another update designed to adapt to the needs of users who need to collaborate in today's cloud computing environment. These updates include:
A simplified ribbon that displays one row of buttons instead of multiple rows. Features and commands you use most are readily available while giving more real estate on your screen for content. If, however, you prefer the previous version, a toggle is available to revert to the classic ribbon interface.

The Office Online ribbon interface toggle.
New colors and icons designed to scale based on the size of the screen so they stay crisp and clear across different types of devices.
Search powered by AI and machine learning, which displays recommendations as soon as you click the search box.
These updates are being rolled out in stages starting with Word Online. If you don't see these updates in your Office 365 environment, don't worry; they will eventually be rolled out to all Office 365 tenants.

Office Online as a cloud service is a browser-based productivity solution that includes the core Office apps: Word, Excel, PowerPoint, OneNote, and Outlook. It's a free service, but it requires a cloud storage account for storing documents such as OneDrive (consumer version), OneDrive for Business, and SharePoint Online.
Getting the most out of Office Online
The advantage of software as a service (SaaS), such as Office 365, is that SaaS vendors can roll out enhancements and updates in shorter cycles and require minimal actions from the end user. If you visit the Office 365 Roadmap page, you'll notice a number of features and updates in development to the service. When Microsoft launches these items, they may just show up in the service or application without the user installing anything. So, don't be surprised if you're using Office Online one day and come back the next day to find new features to help you get the job done.

Here are some tips to get the most out of Office Online:
Use SharePoint Online and OneDrive for Business as your online storage solution versus a third-party solution. The deep integration between Office Online and other Office 365 services can save you a lot of time by avoiding integration issues. Additionally, built-in AI and machine learning in Office 365 will capture computing behaviors in your environment to drive better security and collaboration.
Install the free Office apps on your mobile devices so you can access files on to go. When you open a document in your mobile app, you will automatically be taken to the last spot you were working on so you can easily pick up where you left off.
Sync your OneDrive for Business and SharePoint Online document libraries to your hard drive. This way you can access documents when you're offline using your Office desktop applications. Any changes you make while you're offline will automatically be saved and synced when you're back online.
Getting your voice heard
Microsoft is eager to get your feedback on Office Online and other services. If you would like to help improve Office, there are many ways to make your voice heard.

In Office Online, at the bottom right of the screen, you will see a link that says GIVE FEEDBACK TO MICROSOFT. Clicking on that link will open a quick feedback form, which you can then submit.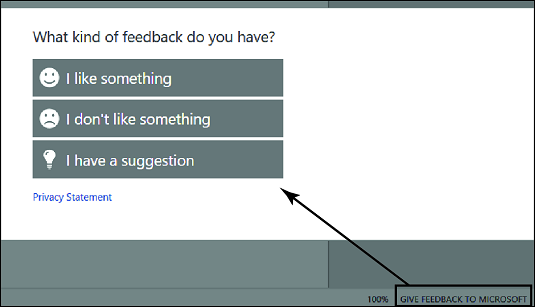 The Help Improve Office feedback form.
If you want to actively engage with other users who are providing feedback to Microsoft, you can also visit the following forums:
About This Article
This article is from the book:
This article can be found in the category: