Yammer is a private platform for enterprise social networking. Originally developed as an internal communication system, the site allows for business users to easily collaborate with one another to meet business needs. Users are identified by their email domains and connected to others within a network.
Yammer made its debut appearance in 2008. Developed by a former PayPal executive, Yammer is a social networking solution for the workplace. Seeing the potential, Microsoft purchased Yammer in 2012 for a whopping $1.2 billion. Now the site boasts a clientele of more than 85 percent of Fortune 500 Companies.
Often referred to as the "Facebook for business," Yammer offers you many familiar tools for collaborating with others in your company. This includes Suggested Groups, Suggested People, Networks, a Feed, and much more.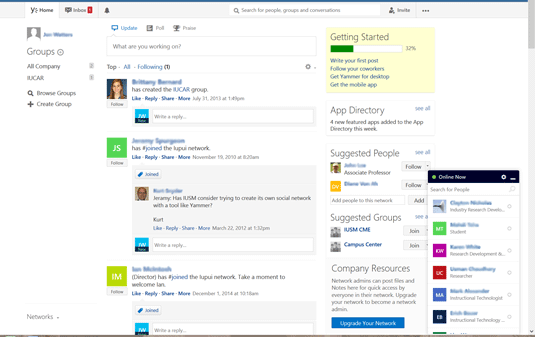 Source: Yammer.com
How much does Yammer cost?
Yammer is offered as freemium software. You can use most of the basic features at no cost, with the option to upgrade at a monthly fee for certain advanced features. Here are the basics behind the pricing options:
Yammer Enterprise standalone ($3 per user per month): Offers additional support, security options, administrative control, data analytics, and integration.

Office 365 for Business ($5-$20 per user per month): Intended for midsize businesses and enterprises, this plan gives you full access to the Cloud suite and gives IT additional management capabilities.

Office 365 for Education ($2.50-$7.50 per user per month): Offers collaborative solutions for educational institutions.
For additional information about pricing plans, check out Yammer's pricing page.
Why Yammer?
You may be rolling your eyes and thinking, "Oh, great. Another social site I have to keep up with." And to a certain extent, you may be right. It is one more site you have to check and another thing to add to your to-do list. But consider this: Instead of being an additional chore, Yammer may actually save you time.
Here's a scenario: You come into the office early to prepare for a meeting where you hope to have an opportunity to provide input on a current project; and ideally, you hope your coworkers have done the same.
The beauty of Yammer is that instead of getting out of bed early and driving in the dark to the office, you can do all of these things on the site. And, maybe, skip the meeting altogether. You can offer your insight on a current project, post examples, and post a topic for discussion, all without making that morning drive.
Yammer also allows you to create relationships with your colleagues that may otherwise be unlikely. In addition to that long list of projects to do and emails to return, who has time to be social? You may find that Yammer is a great tool for helping you find that social aspect in the workplace. You can also:
Post relevant announcements and events

Manage group projects

Manage private messages

Keep up to date with work relevant projects and news

Gain valuable input and feedback

Post files and allow editing of group documents
About This Article
This article can be found in the category: