Shapes and lines are a great way to illustrate ideas in Office 2016 documents. You can in effect doodle on the page and give readers another insight into what you want to explain. In Word 2016, however, drawing lines and shapes is problematic unless you draw them on the drawing canvas.
The drawing canvas works like a corral to hold lines and shapes. After you create a drawing canvas, you can draw inside it as though you were drawing on a little page, as shown here. You can treat the drawing canvas as an object in its own right. You can move it, along with the things inside it, to new locations.
You can also, by way of the (Drawing Tools) Format tab, give the drawing canvas an outline shape and fill color. The drawing canvas makes working with objects on a page, especially lines and shapes, that much easier.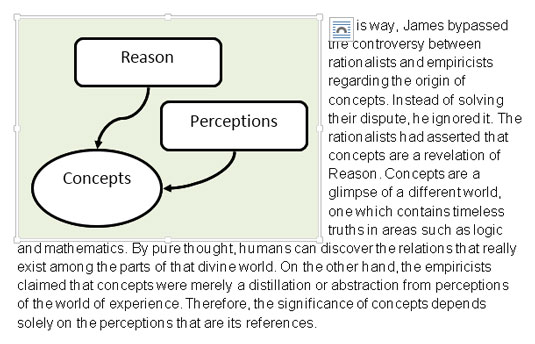 The drawing canvas — a corral for shapes and lines.
Follow these steps to create a drawing canvas for holding lines and shapes:
Place the cursor roughly where you want the drawing canvas to be.

Go to the Insert tab.

Click the Shapes button and choose New Drawing Canvas.

You can find the New Drawing Canvas command at the bottom of the Shapes drop-down list. A drawing canvas appears on your screen.
The drawing canvas is an object in its own right. You can wrap text around it, give it an outline, and give it a color fill. You can drag it to a new location. To change its size, drag a handle on the side or corner.
About This Article
This article is from the book:
This article can be found in the category: