Some people see their Contacts list as pure gold. They ogle and admire it whenever they're not busy playing Solitaire. To see your Contacts list on Outlook.com, click the arrow beside the Outlook name at the top of the screen and choose People in the Ribbon. If you'd like to sort the contents of your Contacts list, click the gear icon in the far right of the Ribbon.
That icon reveals a list of ways that you can view your contacts and their source. For your viewing pleasure, you see these options:
Filter All Contacts
Display Order
Sort By
You can do much more powerful things with your contacts in the desktop version of Outlook, but seeing your contacts when you're away from your desk is mighty convenient.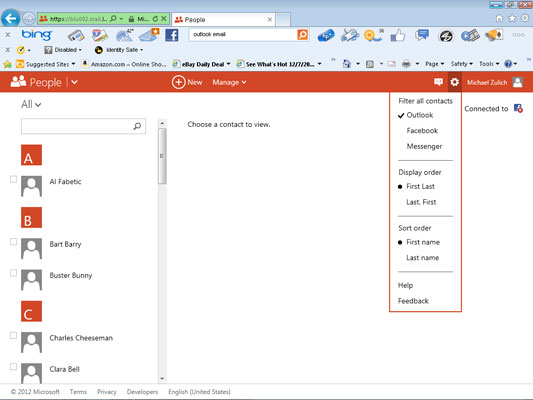 About This Article
This article is from the book:
This article can be found in the category: