Even if you don't organize meetings and send invitations in Outlook 2013, you may get invited to meetings now and then, so it's a good idea to know how to respond to a meeting request if you get one. ("Politely" is a good concept to start with.)
When you've been invited to a meeting, you get a special e-mail message that offers these buttons:
Accept: Outlook automatically adds the meeting to your schedule and creates a new e-mail message to the person who organized the meeting, telling that person your decision.

Tentative: The meeting's automatically added to your schedule. A new e-mail message goes to the person who organized the meeting.

Decline: Just can't make it? If you click Decline, Outlook sends a message to the meeting organizer to convey the bad news. It's good form to add a business reason to explain why you're missing a meeting — "Sorry, I have a deadline," rather than "I have to wash my aardvark" or "Sorry, I plan to be sane that day."

Propose New Time: If the meeting organizer chose an inconvenient time, you can suggest another by clicking Propose New Time. Outlook gives you two ways to propose a new time: Choose Decline and then click Propose New Time if the original time is simply impossible; choose Tentative and then click Propose New Time if you're not sure whether the suggested time will work and you'd like to suggest an alternative.

Respond: Since the meeting invitation arrives as an e-mail, you can click Respond to reply with an e-mail message without committing one way or another to the scheduled meeting.

Calendar: Outlook shows your complete calendar in a separate window so that you can get a bigger picture of what your schedule looks like.
You can choose Edit the Response Before Sending if you want to include an explanation to the message, or just select Send the Response Now to deliver your message.
When you get a meeting invitation, the message has a preview of your calendar for the date and time of the meeting — giving you a quick snapshot of your availability. This preview is only a small slice of your schedule, displaying about an hour or so before the meeting starts and about an hour or so after the meeting's start time.
If the meeting is scheduled for longer than two hours, you can scroll down to see more of your schedule — and if the meeting is scheduled to last longer than two hours, you might also want to pack a lunch.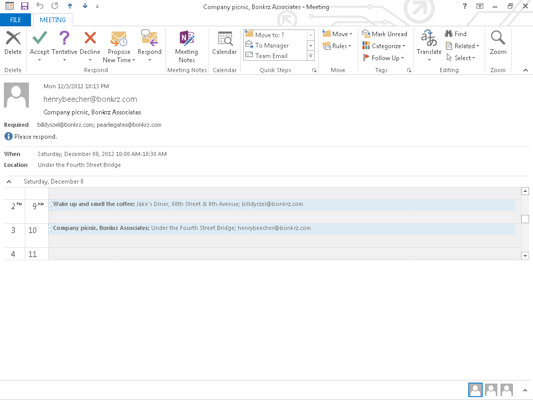 About This Article
This article is from the book:
This article can be found in the category: