If you're looking for a quick rundown on what's new and cool in Excel 2013, look no further! Just a cursory glance down the first few items in this list tells you that the thrust of the features is being able to be productive with Excel 2013 anytime, anywhere!
Complete cloud file support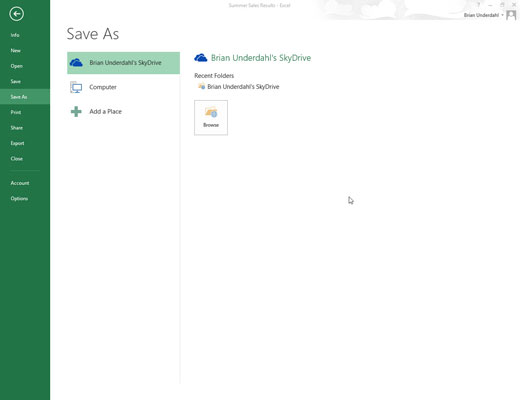 The new Excel Save (File→Save) and Open (File→Open) screens make it a snap to add your SkyDrive or company's SharePoint team site as a place to store and edit your favorite workbooks. By storing your Excel workbooks in one of these places in the cloud, you're assured access to them on any device running Excel 2013 (which can include your Windows tablet and smartphone along with your desktop and laptop PC).
Moreover, should you find yourself without a computing device running Excel 2013, as part of your Office 365 subscription you can still review and edit your workbooks online in almost any major web browser.
Painless file share options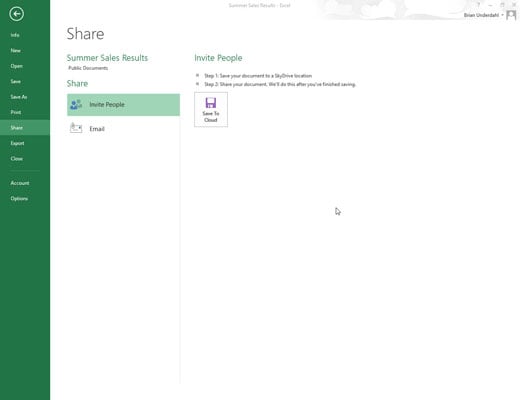 File sharing in Excel 2013 has only gotten better and easier than ever. The new Share screen in the Excel Backstage view makes it easier than ever to share your Excel workbooks online. Not only can you easily invite people to view and edit workbooks saved on your SkyDrive in the Cloud, you can also present them in online Lync meetings and post them to your favorite social media sites.
Total touchscreen support

Excel 2013 isn't just the best spreadsheet program for your Windows desktop and laptop PC, it's also the best on your Windows tablet and smartphone.
To make sure that the Excel 2013 touchscreen experience is as rich and rewarding as with a physical keyboard and mouse, Excel 2013 supports a special Touch mode that puts more space between command buttons on the Ribbon, making them easier to select with your finger or stylus along with all major touchscreen gestures as well as the use of the Windows Touch Pointer.
Moreover, the Touch keyboard (which also offers a Writing Pad mode) is expandable, giving you access to all special cursor movement keys such as Home, End, PgUp and PgDn enabling you to use any of the keyboard shortcuts for moving the cell pointer supported by any standard physical keyboard.
Integrated Data Model support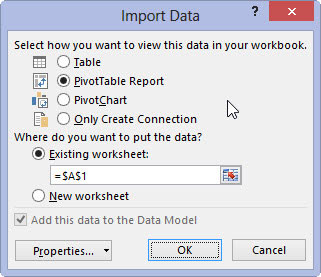 Excel 2013 now supports true one-to-one and one-to-many relations between the data tables that you import into Excel from stand-alone database management programs as well as between the data lists that you create in Excel. The relationships between the data tables and lists in the Data Model then enable you to use data from any of their columns in the Excel pivot tables and charts you create.
Pivot table filtering with timelines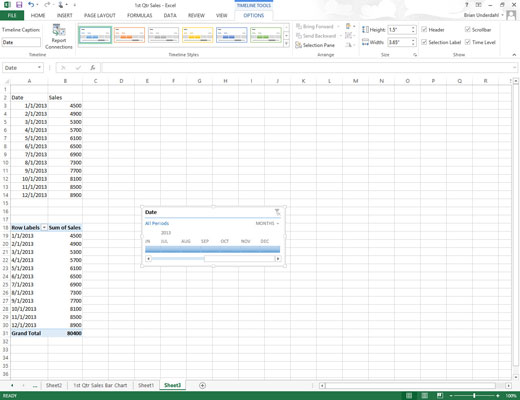 Excel 2010 introduced slicers to make it possible to filter the data in your pivot tables via onscreen graphic objects. Excel 2013 introduces timelines that enable you to graphically filter pivot table data using a timeline based on any date-type column included in the Data Model.
Recommended Charts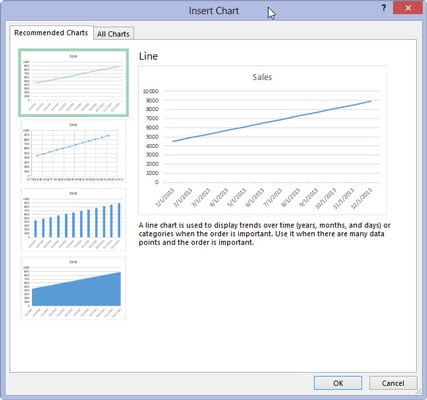 Not sure what type of chart will show off your data the best? Just position the cell pointer anywhere in the table of data and select Insert→Recommended Charts on the Ribbon. Excel then displays an Insert Chart dialog box where Live Preview shows how the table's data will look in a variety of different types of charts.
After you find the chart that best represents the data, you simply click the OK button to embed it in the table's worksheet.
Recommended PivotTables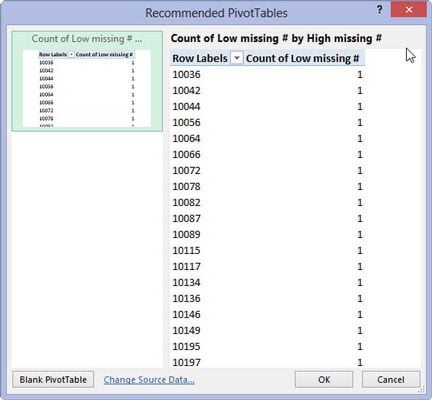 If you're a newbie at creating pivot tables for the Excel data lists you create as well as data tables that you import from stand-alone database management programs, you can now get Excel to recommend and create one for you.
All you have to do is locate the cell cursor in one of the cells of the data list and select Insert→Table→Recommended PivotTables on the Ribbon. Excel 2013 then opens the Recommended PivotTables dialog box showing you a whole list of different pivot tables that you can create on a new worksheet in the current Excel workbook by simply clicking the OK button.
Apps for Office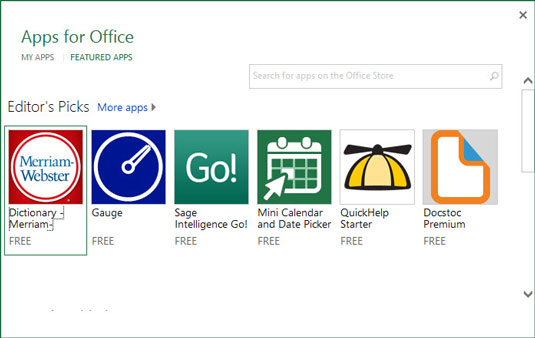 The Apps for Office feature enables you to expand the power of Excel 2013 by installing all sorts of specialized little programs (sort of like add-ins) that are available from the Office Store right within the program.
To install and use an app, select Insert→ Apps for Office→See All on the Ribbon and then select the Featured Apps option in the Apps for Office dialog box. Free apps for Excel 2013 include the Bing Maps app to plot locations, the Merriam-Webster Dictionary app to look up words, and the Mini Calendar and Date Picker app to help you enter dates in your worksheet.
Quick Analysis tool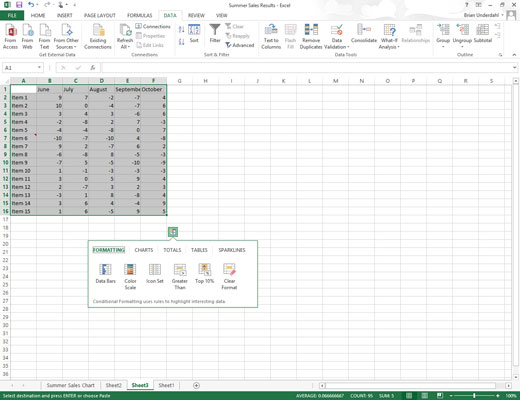 The Quick Analysis tool appears at the lower-right corner of any selected table in an Excel 2013 worksheet. This tool contains options for applying conditional formats, creating a chart or pivot table, totaling values in rows or columns, or adding sparklines for the data in the selected table. And thanks to Excel's Live Preview, you can see how your table data would appear using the various options before you apply any of them.
Flash Fill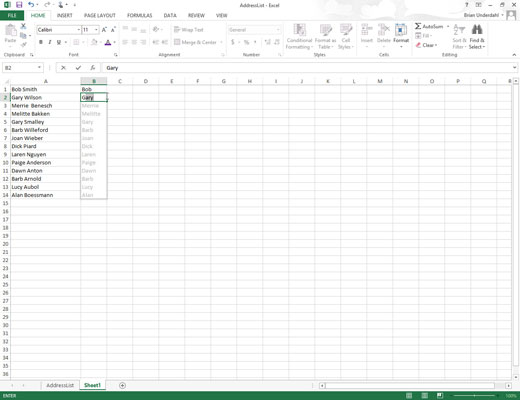 This nifty new feature is literally a mind reader when it comes to dealing with multipart cell entries in a single column of the worksheet that contains discrete elements you could better use if they were entered all by themselves in separate columns of the sheet.
To separate discrete elements from longer entries in the column, all you have to do is manually enter the first element in the longer entry you want extracted into a cell in the same row in an empty column to the right terminated by pressing the down arrow.
Then, the moment you type the first letter of the corresponding element in the second long entry in the empty cell in the row below, Excel 2013's AutoCorrect feature not only suggests the rest of that second entry to make, but also all the rest of the corresponding entries for the entire column.
To complete the AutoCorrect-suggested entry and fill out the entire column, you simply click the Enter button on the Formula bar or press the Enter key.
About This Article
This article is from the book:
This article can be found in the category: