Each new workbook you open in Excel 2010 contains three blank worksheets, although you can add more. You can move between the worksheets in an Excel workbook by using the sheet tabs, the Sheet Tab scroll buttons, and keyboard shortcuts.
To activate a worksheet for editing, you select it by clicking its sheet tab. Excel lets you know what sheet is active by displaying the sheet name in boldface and making its tab appear on top of the others.
On the left side of the bottom of the worksheet area, the Sheet Tab scroll buttons — First sheet, Previous sheet, Next sheet, and Last sheet — appear, followed by the actual tabs for the worksheets in your workbook and the Insert Worksheet button. If your workbook contains too many sheets for all their tabs to be displayed at the bottom of the worksheet area, use the Sheet Tab scroll buttons to bring new tabs into view (so that you can then click them to activate them).
If you need more worksheets in your workbook, you can add them by clicking the Insert Worksheet button that appears to the immediate right of the last sheet tab.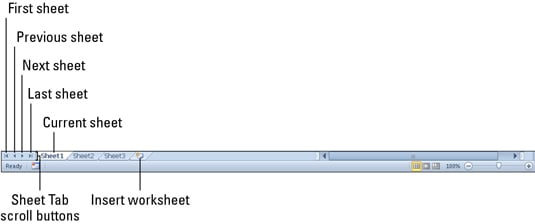 Use the Sheet Tab scroll buttons and the sheet tabs to move between worksheets.
You also can use the Ctrl+Page Down and Ctrl+Page Up keyboard shortcuts to display the next and previous sheet, respectively, in your workbook.
You can help distinguish the worksheet tabs in a workbook by applying different colors to the sheet tabs. Right-click the sheet tab, point to Tab Color, and then click the desired color from the resulting color palette.
About This Article
This article is from the book:
This article can be found in the category: