Excel 2007 automatically displays new pivot charts on the same worksheet as the pivot table. However, if you move the pivot chart to its own sheet in the workbook, you may find it easier to customize and work with it. You can always move the chart back to the worksheet later, if you prefer.
Click the PivotChart Tools Design tab on the Ribbon.
If the PivotChart Tools contextual tab doesn't appear at the end of your Ribbon, click anywhere on the pivot chart to make this tab reappear.
Click the Move Chart button in the Location group at the far right of the Design tab.
Excel opens a Move Chart dialog box.
Click the New Sheet option button.
The default name Chart1 is highlighted in the accompanying text box.
(Optional) Enter a more descriptive name for the chart.
This name will appear on the sheet tab for the new chart sheet.
Click OK.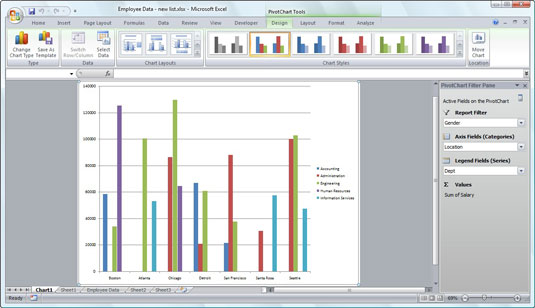 The Move Chart dialog box closes and the pivot chart now appears on a new chart sheet.
About This Article
This article is from the book:
This article can be found in the category: