You can hide and unhide rows or columns in Excel 2010 when you don't want part of the worksheet to be visible or when you don't want certain data (such as salary information) to appear in printed reports — hidden rows and columns do not print.
You cannot hide selected cells; only entire columns or rows.
Select the column or row headings you want to hide.
Press the Ctrl key while selecting multiple rows or columns. If you want to unhide rows or columns, select the rows or columns both before and after the hidden rows or columns.
Click the Format button in the Cells group on the Home tab.
Notice the Visibility section of the resulting Format drop-down menu.
Point to the Hide & Unhide command under Visibility in the Format menu.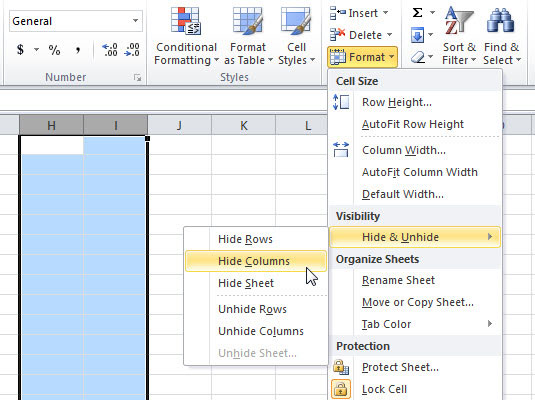 Another menu appears, containing options for hiding and unhiding rows and columns.
Make a selection from the menu.

When you hide columns or rows, the associated column letters or row numbers disappear from the worksheet frame.
About This Article
This article is from the book:
This article can be found in the category: