In Excel 2010, you can hide any worksheet in a workbook to remove it from view so that others cannot see the data it contains. You can unhide the worksheet at any time.
All formula references to a hidden worksheet are still valid even when a worksheet is hidden.
Click anywhere on the worksheet that you want to hide.
You can select multiple worksheets by Ctrl-clicking their tabs if you want to hide more than one worksheet at a time.
In the Cells group on the Home tab, choose Format→Hide & Unhide→Hide Sheet.
Excel hides the worksheet from view.
To unhide the worksheet, choose Format→Hide & Unhide→Unhide Sheet.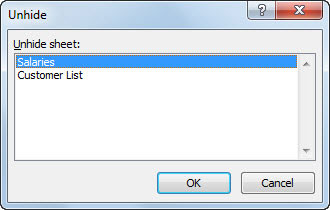 The Unhide dialog box appears, listing all currently hidden worksheets in the active workbook.
Select the worksheet you want to unhide and click OK.
The worksheet appears in the workbook.
About This Article
This article is from the book:
This article can be found in the category: