If you get stuck and need help with Excel 2010 features, you can use the Excel Help window to quickly find the answers. The Excel Help button — the blue circle with a question mark, located to the right of the last Ribbon tab — provides quick access to Help.
Certain commands on the Ribbon display a ScreenTip that says Press F1 for Help when you hover the mouse cursor over them. When you see this, press F1 to see Help information related specifically to that command.
Click the Excel Help button or press F1.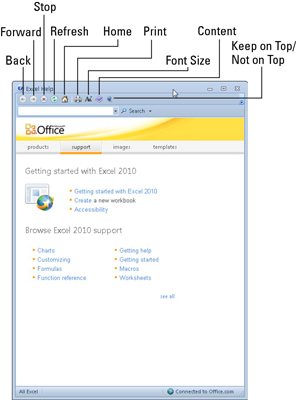 The Excel Help window appears, and you see general categories of Help topics. A toolbar appears near the top of the Excel window.
Click the Help links until you find the topic you want.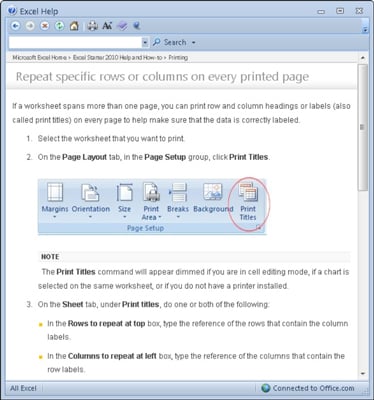 Excel displays the text of the article in the Help window. You can read the article in this window or click the Print button in the Help window toolbar to print the article. Use the Back and Forward toolbar buttons to navigate through the Help topics.
Click the Show Table of Contents button.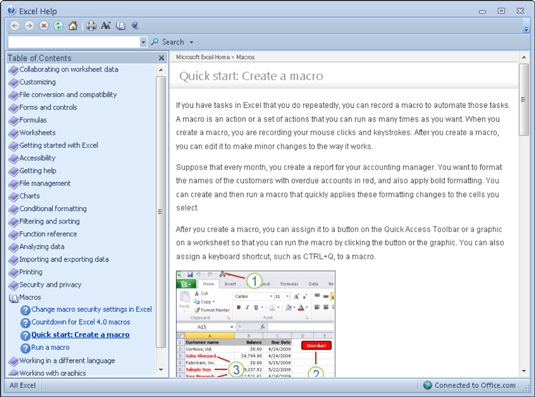 The Table of Contents button in the Help window toolbar looks like a closed book. When you click this button, it changes to an open book and the Table of Contents pane appears on the left side of the Help window. Click any book icon in the Table of Contents to display subtopics and articles.
Type keywords in the Search box and click the Search button.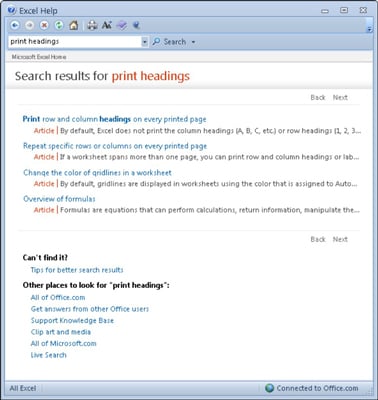 Excel searches online for topics related to the keywords you type, such as print headings. If your computer doesn't have Internet access when you perform the search, Excel displays only local help topics on your computer.
Right-click the Windows taskbar and select Show Windows Side by Side.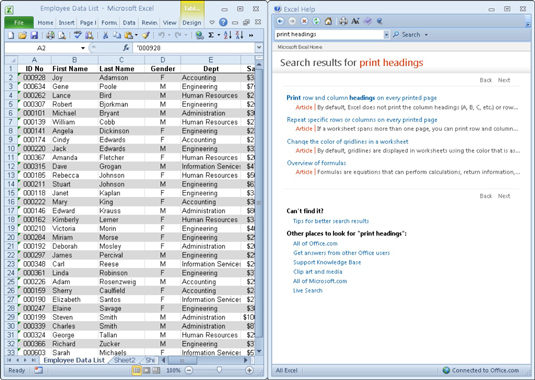 Excel repositions the Help window so that it appears beside the Excel window. This window configuration enables you to peruse the help information in the Excel Help window and then immediately try applying it to the worksheet you have open.
About This Article
This article is from the book:
This article can be found in the category: