Anytime you launch Excel (without also opening an existing workbook file), the Excel screen in the Backstage view presents you with a choice between opening a new workbook or opening a new workbook based on the design in an existing template.
Spreadsheet templates are the way to go if you can find one that uses the design of the spreadsheet that you want to build. To work from an existing template, follow these steps:
Select a template from which to generate a new workbook in the Excel Start screen.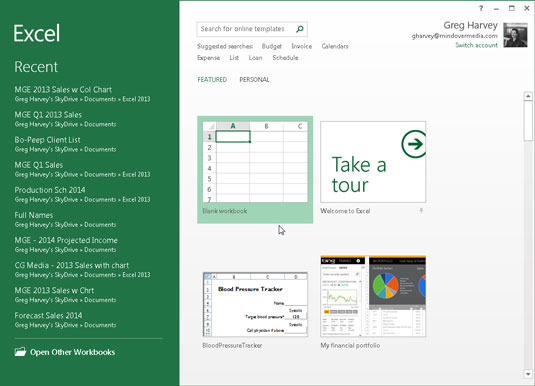 There are many templates to choose from when you initially launch Excel.
The templates displayed on the Excel screen in the Backstage view run the gamut from budgets and schedules to profit and loss statements, sales reports, and calendars.
This screen also contains links to common search categories: Budget, Invoice, Calendars, Expense, List, Loan, and Schedule.
Click one of these links.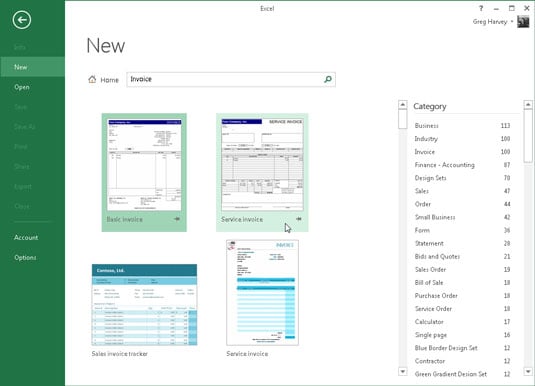 A New screen appears in the Backstage view showing your choices in that particular category.
Here is the New screen that appears when you click the Invoice link in the Suggested Searches area of the Start screen. As you can see, you can narrow your choices of invoice templates by selecting one or more of the subcategories shown in the Category list box on the right side of the New screen.
When you locate a template whose design can be adapted to your spreadsheet needs, click its thumbnail in the Excel or New screen.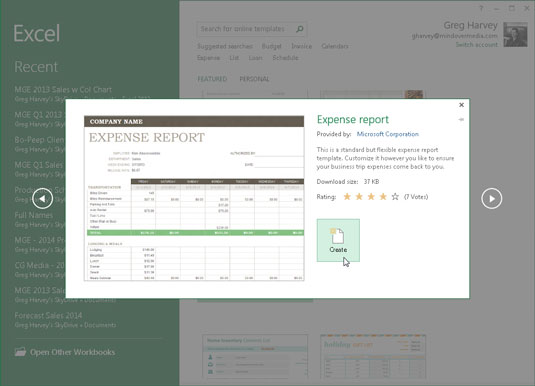 Excel then opens a dialog box similar to the one shown, containing a more extensive description of the template, its rating (in stars), and its file size. To download the template and create a new Excel workbook from it, you simply select the Create button.
Click the Create button for an Expense Report template.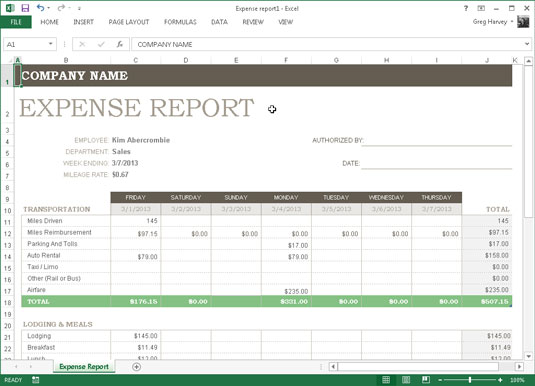 When Excel generated this first workbook from the original template file, the program also gave it the temporary filename, Expense Report1. If you were to then create a second copy of this report by once again opening the Expense Report template, the program would name that copy Expense Report2.
After you finish filling in the personalized data, save the workbook just as you would a workbook that you had created from scratch.
About This Article
This article is from the book:
This article can be found in the category: