Microsoft Excel 2010 includes a built-in spell checker that can catch and correct spelling errors and typos in your worksheets. Excel 2010's spell checker normally looks for misspellings only in the current worksheet. If you have a multiple-sheet workbook, you can select the sheets you want to check before you start the spell checker. Also, you can check the spelling of just a particular group of entries by selecting the cells first.
To check the spelling in a worksheet click the Spelling button in the Proofing group of the Review tab (or press F7). Excel begins checking the spelling of text entries in the worksheet. When the program comes across an unknown word, it displays the Spelling dialog box.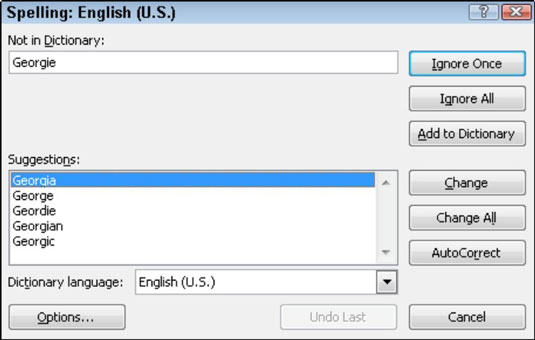 Use the Spelling dialog box in Excel 2010 to correct typos in a worksheet.
Excel suggests replacements for the unknown word shown in the Not in Dictionary text box with a likely replacement in the Suggestions list box. If that replacement is incorrect, you can scroll through the Suggestions list and click the correct replacement. You have six options for any words that Excel doesn't recognize:
Ignore Once or Ignore All: When Excel's spell check comes across a word its dictionary finds suspicious but you know is viable, click the Ignore Once button. If you don't want the spell checker to query you about this word again, click Ignore All.

Add to Dictionary: Click this button to add the unknown word — such as your name — to a custom dictionary so that Excel won't flag it again.

Change: Click this button to replace the word listed in the Not in Dictionary text box with the selected word in the Suggestions list box.

Change All: Click this button to change all occurrences of this misspelled word in the worksheet to the selected word in the Suggestions list box. Use this with caution.

AutoCorrect: Click this button to have Excel automatically correct this spelling error with the selected suggestion in the Suggestions list box (by adding the misspelling and suggestion to the AutoCorrect dialog box).
Click OK when the spell check is complete.
If you began the spell check in a cell other than A1, you may see a dialog box asking if you want to continue checking at the beginning of the sheet. Click Yes or No to continue or end the spell check.
The Excel spell checker not only flags words not found in its built-in or custom dictionary, but also flags occurrences of double words in a cell entry (such as total total) and words with unusual capitalization (such as NEw York instead of New York). By default, the spell checker ignores numbers and Internet addresses. If you want it to ignore all words in uppercase letters as well, click the Options button at the bottom of the Spelling dialog box, and then select the Ignore Words in UPPERCASE check box before clicking OK.
About This Article
This article is from the book:
This article can be found in the category: