After you've created an Excel 2010 table, you can choose from several methods for adding records to the table. Before you add records, the range must already be formatted as a table. To format a worksheet range as a table, select a cell in the range and then click the Table button on the Insert tab.
The most direct way to add new data is to press the Tab key when the cell cursor is in the last cell of the last record (row). Doing this causes Excel to add another row to the table, where you can enter the appropriate information for the next record.
Another way to add records to an Excel table is to use a data form. The Form button isn't included on the Excel 2010 Ribbon, but you can add this button to the Quick Access toolbar. To do this and access the data form, follow these steps:
Click the arrow at the right end of the Quick Access toolbar and select More Commands.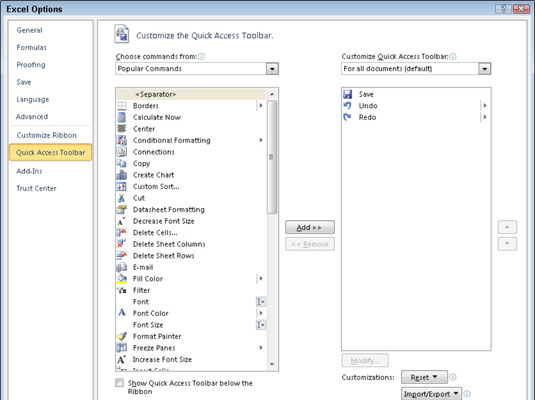 The Excel Options dialog box appears with the Quick Access Toolbar options displayed in the right pane.
In the Choose Commands From drop-down list, select All Commands.
You'll see a long, alphabetical list of all the commands available in Excel.
Select the Form button in the list box, click Add, and click OK.
The Form button appears at the end of the Quick Access toolbar.
Position the cell cursor in the table and click the Form button on the Quick Access toolbar.
The data form lists the field names down the left side of the form with the entries for the first record in the text boxes next to them.
Click the New button in the data form.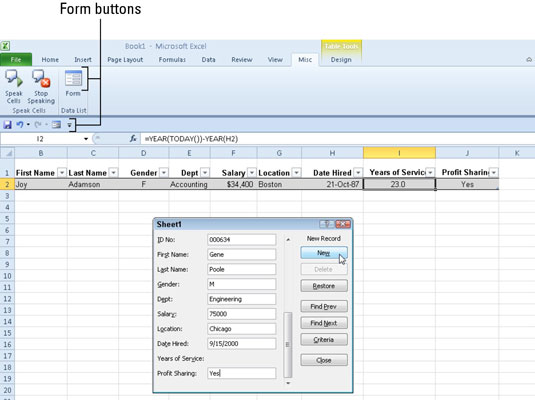 Excel displays a blank data form, which you get to fill in.
Type the information for the first field and press Tab to move to the next field.
Continue typing data for each field in the record.
Press Enter to complete the record.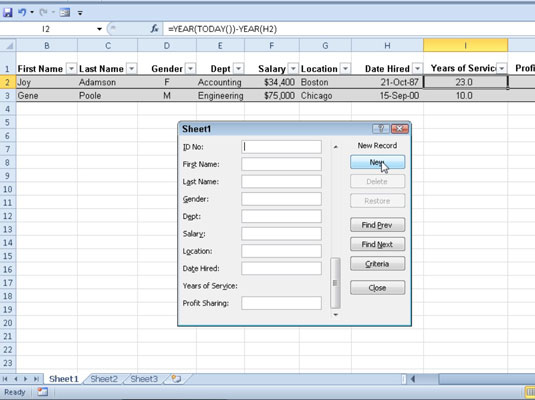 Excel adds the record to the table and displays another blank data form.
Press Esc or click the Close button when you finish adding records.
Your table will be updated with the new records.
About This Article
This article is from the book:
This article can be found in the category: