When you set up a new Tinkercad design, it will be a blank design initially, but you'll add to it as you go. You can even sign out of Tinkercad and return to finish it later.

When you log in to Tinkercad, your Tinkercad profile is top left, along with a profile picture if you set one up. (If not, you can go to your Tinkercad account settings to add one, if you want.) If you've created any Tinkercad designs, you see them as well.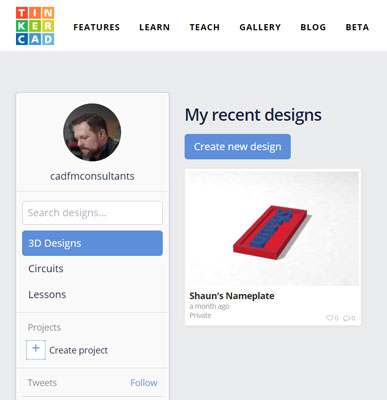 The opening Tinkercad screen upon logging in.
To get to the screen shown, you can click on the colorful Tinkercad logo. You don't have to log in and out to see it. Also, bear in mind that you won't have any Tinkercad designs showing as you haven't designed anything yet!
To create a new design:
Click the Create new design button. A new design that is all set up and ready to go appears. Tinkercad gives each new design a weird and wacky new design name, some of which can be fun, but you'll want to change the design name so that it's relevant.
Name your new design by clicking on the name, typing the new name, and pressing Enter. Your new name appears in the top-left corner of the screen, as shown here.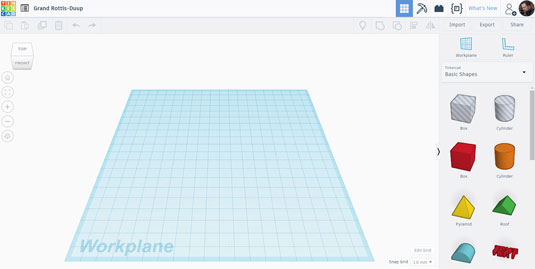 A new Tinkercad design ready to go, with its weird and wacky design name.
The design is named Grand Rottis-Duup.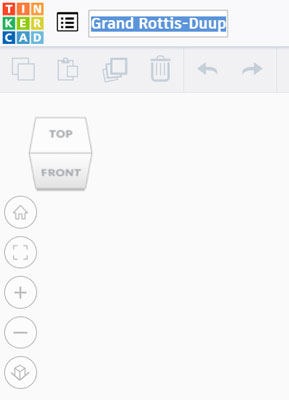 My new Tinkercad design name.
About This Article
This article is from the book:
This article can be found in the category: