ABS stands for Acrylonitrile Butadiene Styrene and is often used in home-based 3D printing. ABS is classified as a thermoplastic, which means the ABS softens to be molded when heated and hardens when cooled. ABS has been widely used in many industries because of its ability to take on many forms and maintain high quality in those forms.

ABS can endure extreme weather and is also chemical resistant. Due to those qualities, ABS forms many of the products you use or encounter on a daily basis.

ABS plastics are a core ingredient to 3D printing. Companies, hobbyists, and 3D printing enthusiasts will always continue their search for the holy grail of 3D printing materials, but ABS will come pretty close. The overall quality of ABS prints are hardness, toughness, electrical insulation properties, and gloss, which give it incredible durability in the real world. ABS can also be printed to have a certain level of resistance and toughness to meet specific standards needed for a specific product or design to be considered usable.

Many other 3D printing materials can be used to create the aesthetics wanted by 3D designers, but ABS is still preferred by engineers and makers who want to accomplish the mechanical use of the 3D print they create.

The Tinkercad materials guide states that ABS is a very strong, durable plastic, similar to the plastic that Lego bricks are made from. It is formed of a spaghetti-like filament with many color options, and it normally 3D prints to about 3 layers per 1mm and has a 1mm minimum wall thickness. The figure shows 3D prints made from ABS, as shown in the Tinkercad materials guide.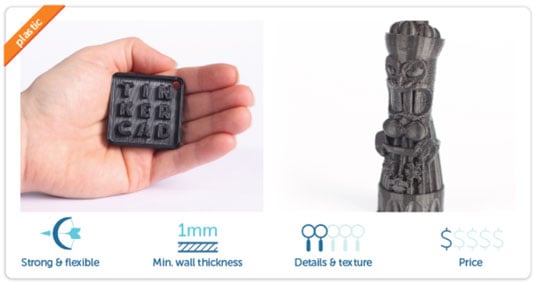 The Tinkercad materials guide for ABS.
About This Article
This article is from the book:
This article can be found in the category: