iTunes' Music Library is like a master list of your digital media. To view the Music Library, select the Music entry in the left-hand column of the iTunes player. From here, you can browse the music you have collected, find a song, add or remove songs, and watch video.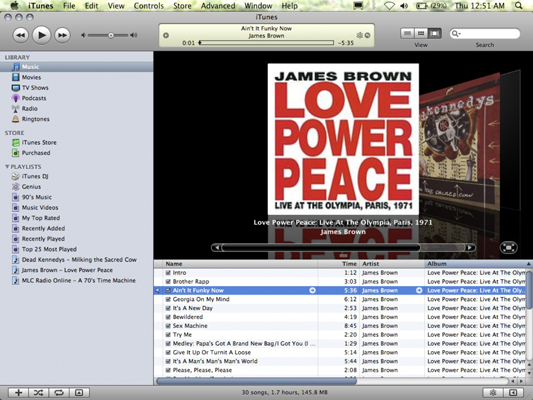 The Music Library keeps track of all your audio files.
iTunes can display your Music Library in three ways. By default, the application uses the list view, where each song is one entry. Click the second View button (at the top of the iTunes window) to group tracks together by album artwork in grid view. Click the third View button, and you're browsing by album cover in cover flow view, complete with reflective surface!
Perform these basic tasks from your Music Library:
Browse the Library: After you add a few dozen songs to iTunes, viewing the Library can become a task. To help out, iTunes can display your Library in browsing mode: just click the View menu and click the Show Browser item, or press the Command+B keyboard shortcut.

iTunes' Browse mode organizes your tunes into four sections:

Genre

Artist

Album

Song Name

Find songs in your Music Library: iTunes has a built-in Search function. To find a song, type some text into the search field of the main iTunes window. While you type, iTunes tries to find a selection that matches your search text.

Remove old music from the Library: After you spend some time playing songs with iTunes, you might decide that you didn't really want to add 40 different versions of "Louie Louie" to your Library. To remove a song from the Library, click the song to select it and then press the Delete key on your keyboard.

You can also remove a song from the Library by dragging it to the Trash in your Dock.

Watch video: Watching video in iTunes is similar to listening to your music. To view your video collection, click one of these entries in the Source list:

iTunes displays your videos as thumbnails or in cover flow view. Music videos appear as a smart playlist.

From your collection, you can

Double-click a video thumbnail or an entry in the list.

Drag a QuickTime-compatible video clip from the Finder window to the iTunes window.

iTunes plays video in the box below the Source list or in full-screen mode, depending on the settings you've chosen on the General pane in the iTunes Preferences window. In full-screen mode, move your mouse to display a control strip at the bottom of the screen, sporting the standard slider bar that you can drag to move through the video (as well as a volume control and Fast Forward/Reverse buttons). You can also pause the video by clicking the Pause button.
About This Article
This article can be found in the category: