Twitter's open API allows software developers to create applications, mashups, and services that feed off the Twitter platform. Many of these third-party applications are Twitter clients — programs designed to let you update Twitter on your mobile phone instead of having to use the web interface or text messaging.
Many of these applications automatically load Tweets from your Twitter followers. This feature is nice, because on the website, you have to click the blue bar showing how many new Tweets have arrived every few minutes to see what's going on.
Each of these applications has a different way of letting you display, organize, search, and interact with Tweets, which makes these applications a very diverse crop. A competition is afoot to become the preferred way for most twitterers to engage with Twitter. Whether a few clear leaders emerge or whether people continue to interact with Twitter in dozens of ways remains to be seen. Check out the desktop client TweetDeck.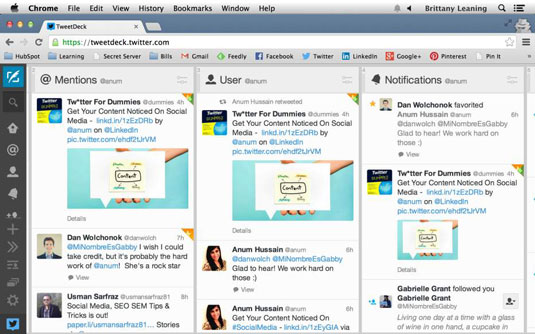 Desktop clients
Many Twitter clients for your Mac or PC take the form of a web application. These web apps operate just like any website you use — such as Facebook, Google+, or the like. Meaning, you simply navigate to the site through your browser to use them. Some involve a software download that you install and run from the desktop.
Here are a few desktop clients that stand out from the crowd because they're easy to use and offer the features that most Twitter users want:
HootSuite: The free, easy-to-install web application was launched on the premise of helping businesses and organizations collaborate on social media campaigns. The tool can be used for free so you have an easy-to-use program for monitoring your Twitter activity. It's particularly helpful if you're monitoring and engaging on Twitter through multiple accounts. Currently, Twitter's web application doesn't have any option for multiple-account sign-in.

TweetDeck: This free Twitter client, also available as a web application, is compatible with Mac and Windows. TweetDeck is for power Twitter users. Its main selling points are the ability to form specific groups of your contacts, integrated Twitter search, and multiple-column interface.

You also find many of the same features as in HootSuite, including the ability to get content from more than one social network. TweetDeck is almost too functional for some casual Twitter users, but if you use Twitter frequently, you can't easily beat seeing trending topics in a column or performing a detailed Twitter search right from your desktop.
Mobile clients
The most basic way to use Twitter on a mobile phone, smartphone, or personal digital assistant (PDA) is through the mobile website (mobile.twitter.com). If you don't have a smartphone, another option is text messaging.
Most people will choose to download one of the following mobile applications to their device. Twitter can be incredibly helpful when you take it on the road, so it's worth the effort of downloading and setting up a mobile client.
Twitter themselves maintain a variety of "native" apps for various mobile phone and tablet platforms. Currently, that includes iPhone, iPad, Android, Windows Phone, Nokia, and Blackberry. You can find all of them listed on the Twitter product list. Here are some additional third party options for the most popular current platforms.
Tag clouds
Tweet Cloud and TagCrowd, Trending Topics, and hashtags have something in common: They can generate a Twitter tag cloud, a visual display of words in which the relative size of the word corresponds to how many times it has been mentioned. Tag clouds provide an easy visualization of what's going on in the Twitterverse in real time.
Words that twitterers use a lot appear in the tag cloud, and the more mentions a word gets, the larger, darker, and bolder its display is. Tag clouds represent another, often quite visually appealing way to see what's going on.
About This Article
This article is from the book:
This article can be found in the category: