With many web services, signing up is the easiest part of an otherwise-complicated process. With Twitter, using the site is just as easy as signing up. To sign up for a Twitter account, follow these steps:
Use your web browser to navigate to the Twitter website.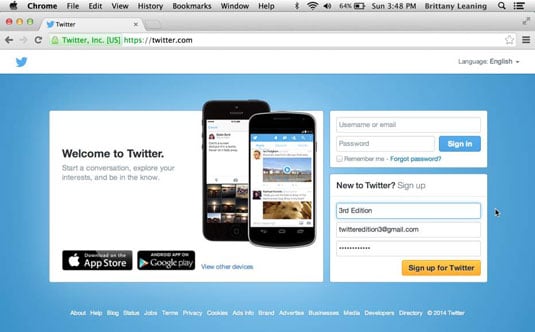 The Twitter splash screen appears.
Click the large yellow Sign Up for Twitter button.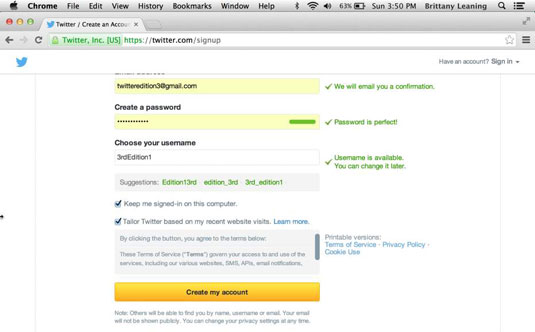 The signup screen appears.
Type your desired username and basic information in the appropriate fields.
The only information Twitter requires from you is your name, a unique email address where Twitter can contact you for notifications, a password of your choice, and a username. (You'll probably take longer to decide on a username than to actually sign up.)
Consider two additional options.
You see two check boxes: Keep Me Signed-In on This Computer and Tailor Twitter Based on My Recent Website Visits. By checking the first box, you're saying that this new account will be your default account that you want to be logged in to at all times.
By checking the second box, you're agreeing to let Twitter give you suggestions about people you might enjoy following, based on information from your recent visits to websites that have integrated Twitter buttons or widgets. You can choose to check one box, both boxes, or neither box, depending on your preference.
Click the large yellow Create My Account button.
Twitter now takes you to a setup screen, or sometimes, a CAPTCHA screen, or refreshes the screen in case you didn't fill out any of the fields correctly, as indicated by a red marker. (In most cases, the red marker appears because you're trying to sign up for a user account that's already taken or you've mistyped your email address.)
By clicking the Create My Account button, you're agreeing to Twitter's terms of service. You see a link at the bottom of the screen that lets you read those terms of service.
Type the CAPTCHA code in the field, if you're prompted to do so.
This step is a standard web tactic to prove that you're a human and not a spam program.
Follow the onscreen tutorial to find people you know.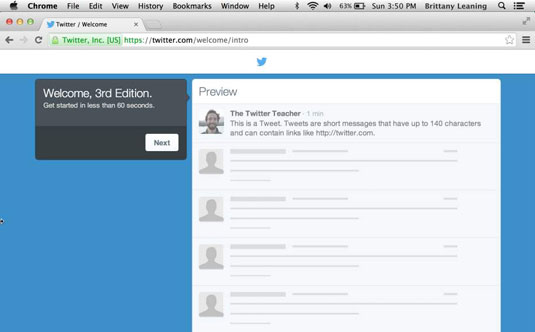 To jump-start your Twitter experience, the sign-up process includes a way for you to find people you may want to follow based on category and to automatically connect with people you know. If you like, you can follow the onscreen wizard. If you want to get straight to Twitter, click the Next button on the left side of the screen until you get to the main Twitter screen. You'll know it when you see it.
When you've gone through the instructions on building your timeline, you're taken to your newly created Twitter account, where you need to confirm your email address.
To confirm your email address, log in to the email account you used to sign up for your Twitter account.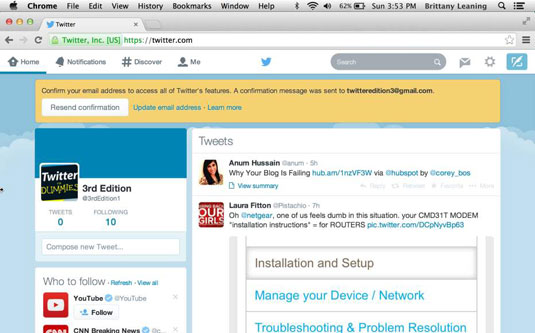 You should see an email from [email protected].
Open the email, and click the blue Confirm Your Account Now button or click the link in the email.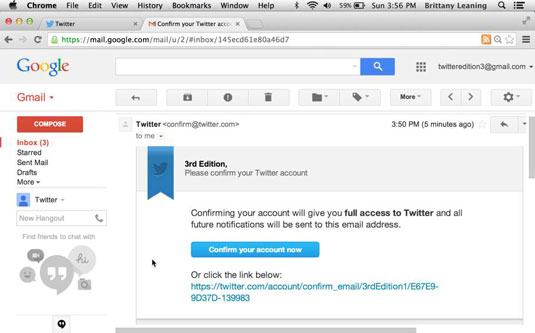 Did you know you can register for Twitter on the go? Get started while you're away from a computer through the Twitter app, which is free to download in the App Store or Google Play, or simply by texting to 40404 (in the United States).
About This Article
This article is from the book:
This article can be found in the category: