Every Twitter user — new and old — has fallen victim to confusion between @reply versus @mention. When growth marketer and content strategist Anum Hussein presented her 21 social media posting tips at the annual INBOUND conference, her tip for understanding the difference between the @reply and @mention was by far was the number one tip.
Dive into these definitions to make the most of Twitter:
@mention: By placing the @ symbol (traditionally used in email addresses) before a user's handle, you can tag him in your Tweet. When you do so, the other user is notified in the Mentions section of his account. @mentions is how many people converse on Twitter.

Any of your Tweets with an @mention appear in the feeds of everyone who follows you.

Here's an example Tweet where Anum (@anum) mentions Brittany (@bleaning) in the middle of her Tweet:

@reply: Similar to the @mention, the @reply begins by placing the @ symbol in front of a username. However, this Twitter reply is a public Tweet directed at a specific person. Instead of the @username in the middle of a Tweet, an @reply places the @username in the beginning of the Tweet.

Any of your Tweets with an @reply appear in the feeds of the specific person you are replying to, and anyone who follows both you and the person being mentioned. It does not appear in the feed of anyone who is following you.

Below is an example where the beginning of Anum's (@anum) Tweet begins with Brittany's handle (@bleaning), indicating it's a reply directly to her. However, you'll notice that Brian Moseley (@bmose14) also saw this Tweet. That's because Brian follows both Brittany and Anum.
To summarize, here's who can see which Tweets.
| Your Tweet | Who Sees It: |
| --- | --- |
| @pistachio loves pistachios. | You, Pistachio, and your followers who also follow Pistachio |
| Love working with @pistachio. | You, Pistachio, and all of your followers. |
Want everyone to see your Tweets? Or perhaps you're not using @username to reply to someone, but rather to begin a sentence with her handle. In situations like these, use a period — "." — in front of your @reply to allow your entire following to see the Tweet, as in the following example.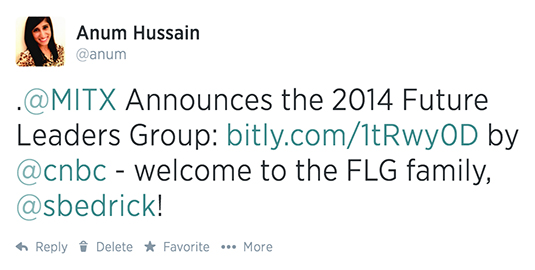 Don't want anyone to see your Tweet? Simply direct message them to send a private Tweet. Just note that the user has to be following you in order for you to message him.
For more specific tips on how to formulate your Tweets, you can review Anum's full INBOUND presentation here: How to conquer the big 3 social media networks.
About This Article
This article is from the book:
This article can be found in the category: