Excel and Google Sheets are excellent tools for planning the timing, topics, and titles of Instagram posts, but they're not meant to be used to store images for posting later. Luckily, several platforms allow you to store, schedule, and analyze your Instagram posts. But unlike Facebook or Twitter, Instagram has a tricky little clause in its terms and conditions that doesn't allow you to schedule a post; Instagram prefers that people post in the moment.

Several platforms offer a work-around for this snag — allowing you to upload and store your image and caption in advance without publishing it for you. The steps are similar on all platforms:
The platform sends you a push notification on your phone when your scheduled posting time arrives.
The platform shows you the image and caption, automatically brings the image into Instagram, and copies the caption text.
You can select a filter, and then the final share screen appears where you can paste the caption.
Tag people or a location, or share to your other networks, and then tap Share.
These steps aren't as convenient as scheduling for Facebook or Twitter, where you can set it and forget it, but it's what's available for now!

Another function that many third-party platforms offer (and many businesses overlook) is analytics. You can learn quite a bit about your customers' preferences by paying attention to data.

For instance, simply looking at which posts received the highest likes or comments in the last month unveils big clues about what you should post next. You'll probably notice that certain images or background colors work better. Data can also reveal which time of day is best to post, or whether certain hashtags attract more people.

The most common third-party platforms that enable Instagram post scheduling (with push notifications) and analytics are
Buffer
Hootsuite
Later
Planoly
Sprout Social
Other services included on most of the platforms listed follow:
Engagement (commenting, liking, following) with other accounts
The capability to share scheduled posts with other members of your team and track approvals
The capability to manage multiple accounts at once on a dashboard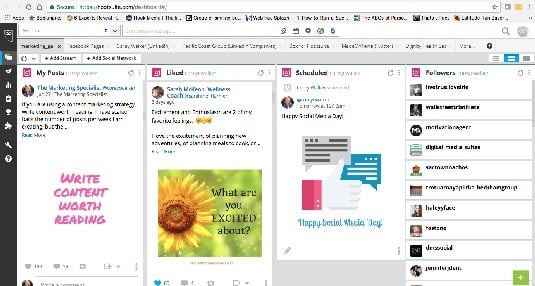 Many platforms, such as Hootsuite, offer a dashboard so you can see multiple streams of content in one place.
Do your homework by looking at the services available and comparing the pricing on each platform. (Pricing structures vary wildly.) Some platforms are robust but may have more than you'll realistically use. Imagine how you would use the platform on a daily basis, look at your budget, and then make your choice.
If you use multiple social media networks for your business, choose a platform that uses a dashboard, such as Hootsuite or Sprout Social, so you can view all your accounts easily.
About This Article
This article is from the book:
This article can be found in the category: