One way you can engage followers or bring attention to a particular topic on Instagram is through the use of hashtags. Hashtags are the single best way to achieve growth and exposure on Instagram.

Hashtags always start with the # sign (found on the bottom right of your mobile phone keyboard when typing, or by pressing Shift+3 on a desktop computer keyboard) followed by a word, a phrase, a number, or an emoji with no spaces, such as #sundayvibes or #instamood.

On an iPhone, the # sign is on the lower right of the mobile keyboard only when using the Instagram app (and some other social media apps like Twitter). If you're writing your captions in the Notes app on your phone, you'll need to tap 123 on your keyboard and then #+= to access the # sign in the special characters keyboard.

After you add a hashtag to your Instagram caption or comment, the hashtag becomes a searchable link that takes you to a page of all the posts using that hashtag (a hashtag hub) when tapped.

Below, you see the hashtag hub for #bicyclebuiltfortwo.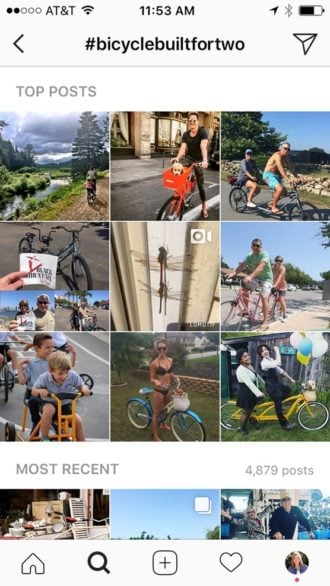 A hashtag hub displays the results of content uploaded by various users on Instagram using that specific hashtag.
Hashtags are added to a hashtag hub chronologically, based on when the photo was posted to Instagram, not when the hashtag posts. Going back days later and adding hashtags to a post will not bump your post back up in the hashtag hub.
People search hashtags to find content for a variety of reasons, such as to find a product, to learn how to do something, to follow a brand, or even to watch videos of a certain theme.
If you have a private account, only users who are your approved followers will see your posts, even with a hashtag. If you're trying to get a wider audience, set your account to public so anyone can search for your content via Instagram hashtags.
Knowing where to place hashtags in your Instagram post
Hashtags can be added to the caption itself before you upload the post to Instagram. Or you can upload your post and add the hashtags to a comment on the post.

There is no functional difference between placing your hashtags in the caption or in the comments. The method you should use is a matter of personal preference. Both options allow your content to appear in hashtag hubs.

All hashtag results pages on Instagram are algorithmically sorted. This means that not everyone will see the same results when they look at a hashtag gallery or hub. One user may see slightly different results and you may not even see your own post in a hashtag hub that you used on your post. This doesn't mean others won't see your content! But it's not a guarantee that everyone looking at that gallery will see your post.
Identifying how many hashtags is ideal for Instagram posts
If you're familiar with using hashtags on Facebook or Twitter, you're probably used to putting a couple of hashtags directly in your post. On Instagram, however, you can use up to 30 hashtags in a caption or in a comment.

You can use up to 30 hashtags for viable search. But you can use more than that in your content — they simply won't be searchable after the 30th hashtag.

For example, you may post 25 hashtags in your post caption and one of your friends may come and post 7 hashtags in a comment on your post. Your post would appear in your 25 listed hashtags and the first 5 of your friend's, but not in the remaining 2 hashtags your friend posted in your comment.

Instagram hashtags are a use-them-or-lose-them mentality. If you don't use them, there's no way you'll appear in those searches. If you do use them, you have a good chance of appearing in those searches. If you're looking to expand your reach and have more people find your content, then you'll want to use as many hashtags as possible, up to that limit of 30.
Finding the right Instagram hashtags for you
There are endless hashtags available to use or create! So, how do you know which ones are right for you? It's important that you find the right ones for you and the ones that are relevant to your content.

If you have a theme or style for your content, you can use hashtags related to that. For example, if you're a stay-at-home mom, you may want to use hashtags related to #MomLife and #MomSoHard.

You can also use hashtags related to your Instagram content itself. For example, if the image is of a pool at the hotel you're staying at, you can use hashtags like #Pool or #SummerVacation or #Poolside or #HotelLiving.

Additionally, when it comes to picking your hashtags, just like students in high school, some hashtags can be popular and some not so popular. You can view any hashtag by searching it in Instagram to see how many posts are associated with it. Follow these steps:
Tap the Search menu (the magnifying glass icon at the bottom navigation bar).
Tap on the Search bar
Tap the Tags tab.
Start typing the hashtag topic.
Select the topic to review the results.

You're taken to the hashtag hub.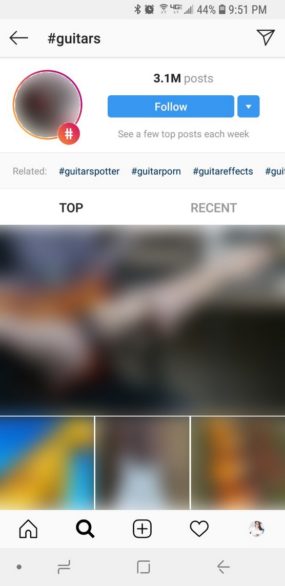 A hashtag hub displays the results of content uploaded by various users on Instagram using that specific hashtag.

In addition to the hashtag you searched for, Instagram will show you a list of other hashtags related to that one you chose. You can tap through to any of those to see that content. And you can use these recommendations to find new hashtags to use, related to the content you're sharing.

The Instagram hashtag results are divided into two tabs — one for top posts and one for recent posts. The top posts are sorted algorithmically for your preference, whereas the recent posts are sorted chronologically with the most recent post at the top of the feed. Even though this content is chronological, there is still some algorithmic determination of what will appear in this hub.

Using really popular hashtags on Instagram — those with over a million posts associated with them — can be perceived as great exposure, but in reality they don't usually yield quality results. This content gets replaced incredibly fast by millions of other posts being uploaded as well.

You may see some additional likes on your post by using these hashtags, but they aren't often your ideal audience, and they're often automated tools that are scouring that hashtag, rather than real people looking to connect with your content.

You should also be wary of some "blocked" or "banned" hashtags. Any hashtags that reference sexual activity or body parts are generally blocked and don't normally belong on a post anyway. Using hashtags like this may get your account flagged for inappropriate activity.

However, you may also come across generic hashtags like #iphone that don't produce any results. And during heavy peak post times like #July4th, you often won't see any content on those hashtags either.

Instagram will put a block on these hashtags simply because they're too popular and they have too much content associated with them. Using these hashtags won't get you flagged or punished. Your content just won't appear in those searches — nor will anyone else's!
Saving hashtags for repeated use on Instagram
When you've figured out which hashtags you want to use on your content, you may find that there are some you'll want to use on more posts in the future. Typing those same hashtags over and over again can get cumbersome!

Android users can take advantage of predictive text, which recalls the series of hashtags you used if you previously listed a number of hashtags. As you begin typing one hashtag, the Android predictive text will show you the next one you commonly use.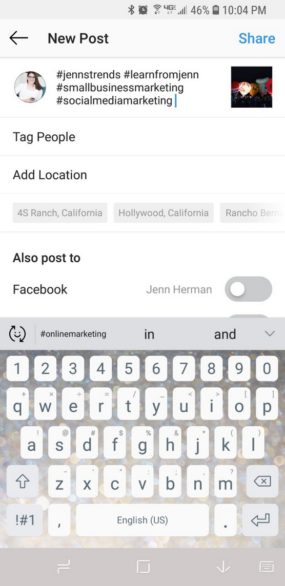 Android devices utilize predictive text to easily select common hashtags.
If you don't want to rely on predictive text, or if you use an Apple device, there are a few other options you can utilize to easily store and access your common hashtags:
Notes: The Notes app is preloaded on iPhones, and similar apps like ColorNote or Evernote are available for download on Android phones. Create a new note for different categories or themes, and then list up to 30 hashtags. Before you tap Share on your post, go over to your note and copy the desired hashtags. Tap Share and open a comment to paste the hashtags.
Email: Another easy solution is to email yourself lists of hashtags. Simply open a new email, use the hashtag category in the Subject line, and then type up to 30 hashtags. Create several emails with different hashtag lists, and then store them in a special email folder to retrieve and cut and paste quickly and easily.
Tailwind: A complete all-in-one solution, the Tailwind app offers hashtag saving, plus content management for Instagram and Pinterest. You can upload your content, schedule it, get hashtag suggestions, save hashtag lists for later, and measure analytics. Unlike the Notes app or email, Tailwind is not free and you'll have to pay a monthly fee for the service.

Store hashtags in a notes app (left), an email message (middle), or the Tailwind app (right).
Creating a new hashtag for Instagram
Anyone can use any hashtag! No one owns any one hashtag, and anyone can create any hashtag phrase they want.

You'll commonly see popular hashtags on Instagram like #VacationMode or #tbt (throwback Thursday) or #Love or #TheStruggleIsReal. But you may also see a brand or a person use a hashtag like #IWouldntDoItIfIDidntWantTo. This is just a phrase that they would normally use in a sentence, but they turn it into a hashtag.

Similarly, you can create any hashtag you want! You can have one for your wedding guests to use, incorporating your names or the date of the wedding. You can create a hashtag related to your company name or nickname from college. Simply string those words together, and — boom! — you've got a hashtag.

You don't own the hashtags you create, so if you're creating a hashtag for, say, your wedding, you may want to start by searching for the hashtag you have in mind to see if anyone else is using it already.

Instead of #JoniLovesChachi, you might want to go with something more specific like #JoniChachiWedding2020. Does that mean someone won't come along and use your more specific hashtag? Nope. But it will reduce the chances.

If your hashtag is something really long, you may want to consider an acronym. For example, instead of #OutfitOfTheDay, you'll often see #ootd on fashion posts.

And, finally, be careful to see how your hashtag reads as one long run on phrase. Just because you know what it's supposed to say, doesn't mean others will know what it says.

Take this one for example: It should read Susan Album Party, but as a hashtag #susanalbumparty, you may read "Su's anal bum party" — and yes, this is a REAL example that happened to Susan Boyle from Britain's Got Talent. So, be careful when you're creating new hashtags for Instagram!
About This Article
This article is from the book:
This article can be found in the category: