If you compare all the popular social networks — Facebook, Twitter, LinkedIn, Snapchat, and Instagram — the one that takes the cake on community engagement is Instagram. You can use hashtags influencers, interaction, and Instagram pods to find your ultimate Insta-tribe!
Finding or creating a community you vibe with
If you've been on Instagram for a while, you've probably seen posts talking about community and finding your tribe. But what does that mean? A community, or tribe, is a supportive group of people talking about and interacting with you and your brand on Instagram. They offer advice, give a heads up about changes on Instagram or your industry, provide support, promote your business when it makes sense, and leave comments that can help boost your posts. If executed well, your community is marketing gold.

Your first step is finding a community that fits with your brand. An easy way to do this is through hashtags. If you sell high-end baby dresses, for example, searching #baby yields several other relevant hashtags such as #babyshower, #babygirl, #babybump, #babyboy, #babybrother, and #babyshoes.

All of these hashtags are large, so by selecting one and creating a new search, you can find more specific hashtags, such as #babygirlstuff, #babygirlnation, #babygirlootd, and #babygirlfashion. Search for people who use these niche hashtags often. Then follow them and interact with them daily by commenting and liking their posts.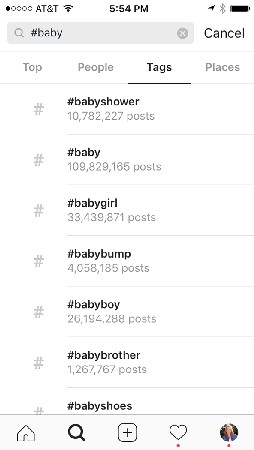 Search hashtags to see Instagram's suggestions of other more specific hashtags.
While you're commenting on their posts, you'll probably start seeing other people showing up frequently on the same accounts. Follow, like, and comment on those accounts too, and before you know it, your tribe is developing!
To further solidify your relationship, send them a quick direct message to introduce yourself and your business. Because you're just meeting, it's not the time to make a sales pitch. Let the relationship flow naturally and tell them how much you enjoy the conversations you've had.
After you're in a community, certain influencers and brands may bubble to the surface. These accounts are excellent to interact with because the audience you're trying to reach sees them often. Leaving meaningful or humorous comments regularly on an influencer or a big brand account can help your following and can lead to a relationship with that influencer or brand.
You may also find your tribe completely away from Instagram. For example, Facebook groups catering to niche markets often have Instagram tribes that coincide with the group. They might have their own unique hashtags to easily identify them on Instagram. You may also discover them by following the admin of the group, and seeing the same people interacting on Instagram.
Not finding the tribe you're seeking? Start your own! Run a contest or campaign asking people to submit a photo that goes with your hashtag. For example, if you're a graphic designer, you could start a challenge using #graphicdesignotd, where designers post what they worked on that day. People love challenges like this because it provides post inspiration and an excuse to show off their work! Keep checking the hashtag for submissions, and thank everyone for participating. Then follow them, and keep coming back regularly, commenting and liking their posts. All of a sudden, a tribe is forming!
With any of these methods for finding or creating your tribe, the most important element is engagement. By liking and commenting often, you get the same in return. Tribe members get to know each other on a deeper level by watching for those special posts every day. The friendships can lead to business connections, conference buddies, and more. Like the old saying goes: The more you give, the more you get back!
Deciding whether Instagram pods are beneficial
When Instagram changed from displaying posts chronologically to using an algorithm based on users' likes to show posts, many marketers panicked. It seemed like Facebook all over again — pushing people toward advertising to get their posts shown. To combat this, many savvy marketers turned to Instagram pods. A pod is a group of 10 to 20 accounts that usually have something in common. Maybe they're all photographers, or DIY crafters, or mommy bloggers. They all have the main goal of getting more engagement.

This is how a pod works:
Instagrammers recruit several other accounts via Instagram DM (direct message) or a Facebook group.
The people in the pod post their content on Instagram, and then share that post via a group DM set up for the pod members.

Pod members share their posts with other members via direct message.

Pod members then click through to the person's Instagram account, liking and commenting on the post as soon as possible to help boost the post in Instagram's algorithm. Likes and comments within the first hour of a post do the most work to get a post shown more often in Instagram feeds.
Pod members have a responsibility to engage as often and as quickly as possible on other pod members' posts to boost engagement. Some people find the responsibility overwhelming, particularly if members of the pod post several times a day.
Does it work? Is it worth the time? The data is not clear. If you have an active group, the comments should help your engagement and likes somewhat. However, participating in a pod can be a huge time commitment and can leave you feeling tethered to your phone waiting for the next post. It's hard to run a business that way.

Often people join a pod, use it for a while, form a few good friendships, and then break up at some point due to the time commitment. You may find your Insta-tribe during this process and still interact with the same accounts from your pod after the breakup but without the pressure of commenting on-demand.

If you'd like to try a pod, start small, with no more than 15 accounts. If you like the results and can keep up, try a larger one. However, your pod should never detract from your larger audience. If you find that you have time to comment on only the same few accounts in your pod, it's best to let the pod go and get back to interacting with your audience as a whole.
About This Article
This article is from the book:
This article can be found in the category: