You can incorporate Instagram directly on your website in several ways. The main three tactics discussed here are as follows:
Linking a button on your website to Instagram
Allowing users to share your articles or blog posts on their social media accounts
Embedding your Instagram feed on your website
Exact instructions for adding these items to your website may differ depending on how your website was built. If you did not build your website, ask your webmaster for help if needed.
Linking your website to your Instagram page
If you have a website, all your business's social networks should be linked to your website so your prospective customers can easily find and follow you on Instagram, Facebook, and more. Most website builders, such as Wix, SquareSpace, and GoDaddy, offer a variety of social media icons that you can easily drop in. For Instagram specifically, you need to link the icon to your Instagram web address: http://www.instagram.com/yourusername.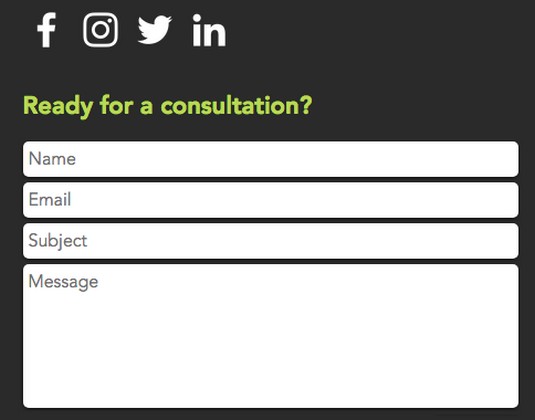 Add links to your social media profile on your website.
If your website was not built on a website builder platform, you can still add a link to Instagram. Here's how:
Do a Google search for an Instagram icon available for downloading.

Many are available for free.

Download the icon that best fits your website's design, and save it to your computer.
Go to your website's content management system or backend.

Details for this process are beyond the scope of the book. Consult your webmaster for help if needed.

Add the Instagram social media icon to your page as you would for any other image.
Link the Instagram icon to http://www.instagram.com/yourusername.

That's all there is to it. Repeat the process for all active business social media accounts.
Make sure you size the social media icons correctly (all the same size, not too large or small) before you upload them to your site. The standard size for social media icons is 32 x 32 pixels.
Allowing others to share your content via Instagram
You've likely noticed and used social media share buttons, which typically appear at the top or bottom of a web article or blog. Share buttons enable you to share that content via your Facebook, Twitter, LinkedIn, Pinterest, and several other social networks — except Instagram. Unfortunately, Instagram's current terms of service do not allow you to add a Share This button on your website.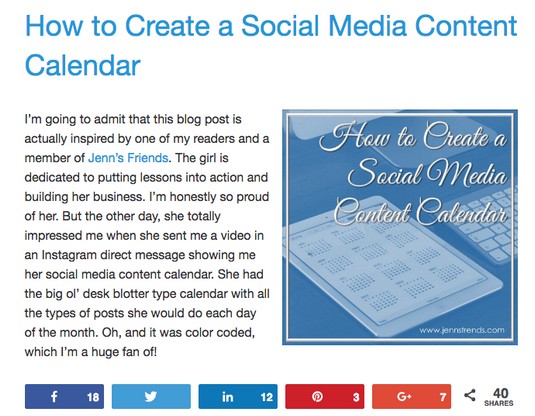 Social media share buttons for a variety of networks are available at the bottom of this web article.
We still encourage you to add your other social networks to further your content reach. Most website builders have share button widgets so you can easily share your content. If you have a custom website, here are some websites that work similarly and offer share button solutions at no or low monthly costs:
Embedding your Instagram feed on your website
Looking to entice your website viewers to check out your Instagram profile? Add your Instagram feed to one of your website's pages. Users click an individual image to be taken to that image on your Instagram profile. It's a great way to tempt people to go to your account.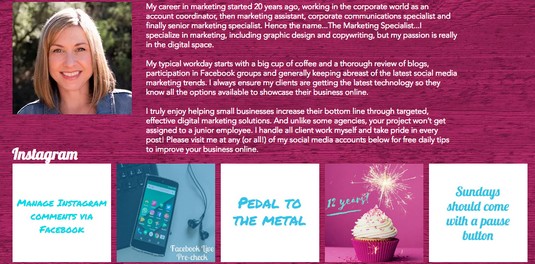 This website has its Instagram feed embedded on one of its web pages.

Before you embed your Instagram feed on your website, think through your strategy. Would you rather have your audience stay on your website or go over to Instagram? Make sure you aren't luring them away from the place you want them to be!

Many website builder companies offer widgets or apps to easily insert your Instagram feed on your website. Follow their instructions for adding the Instagram feed widget. You'll need to know your Instagram web address for this task.

If you have a custom or WordPress website, you can add the Instagram feed by using one of several widgets, such as the following:
Sign up on their website by providing an email and password.
Choose Instagram as the social media network.
Sign in to your Instagram account and allow the app to access your account.
Provide your Instagram account's web address.
Click Embed in Your Site (or something similar, such as Generate Embed Code) to generate the embed code.
Copy and paste the embed code on the backend of your website on the web page where you would like the feed to appear.
If you're unfamiliar with your website's HTML code, provide the embed code to your webmaster to copy and paste in the correct spot on your website.
About This Article
This article is from the book:
This article can be found in the category: