Before you start writing your Instagram bio, choose at least two or three key aspects of your business to highlight. These should be traits that will connect emotionally, in some way, with your ideal target audience.

You also need to determine the voice and style of your bio. If your brand is known for being humorous and witty, your Instagram bio should reflect that same style through words and relevant emojis. In contrast, if your brand is professional and classy, your bio should not be silly and humorous.

To market effectively on Instagram, you must know your target audience and how they're using Instagram. Your bio should be written in a way that connects with the people in that specific demographic. Determine the characteristics that you most want to connect with in that audience and write your bio accordingly. For example, in the image below, the target audience is people who want to learn about video marketing and how to create their own videos. The bio is written to appeal to that audience.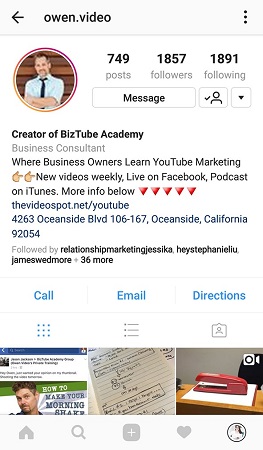 The Instagram bio for @owen.video is designed to appeal to people interested in video marketing.

The Instagram bio is limited to 150 characters, including spaces. The bio is designed to be one single paragraph of information, but you can use formatting techniques to add spaces and line breaks.

Because Instagram was designed to be used on a mobile device, it's best to format your bio on a mobile device so that you retain the correct formatting and alignment. No matter what formatting you create, your bio on a desktop or computer device will always be one long paragraph spanning the width of the browser, unlike the vertical alignment seen on mobile devices.

Include the emojis and symbols on your device's keyboard in your bio to create visual appeal and to better connect with your audience. To add emojis, you must open the emoji keyboard on your mobile device. An iOS user should tap the smiley face icon at the bottom of the keyboard. An Android user can tap the smiley face button to the left of the spacebar. (If you don't see a smiley face, tap and hold down on the microphone icon to display a pop-up menu, where you can select the smiley face icon.)

Instagram is a visual platform, and having icons in the bio helps yours stand out from others. You have many emojis to choose from. If the traditional funny face and cartoonish emojis don't translate to your brand's style, use simple emoji symbols such as squares, diamonds, triangles, and arrows to add color and visual content without detracting from your professional style.

Hashtags aren't clickable in the Instagram bio on mobile devices, so including a hashtag in your bio description is irrelevant. The exception is if you have a unique branded hashtag that you want people to associate with your brand. For example, @sandiegophotos encourages followers to use the #MySDPhoto hashtag to have their photos showcased on their account. They use this for branding purposes, because the hashtag is still not clickable.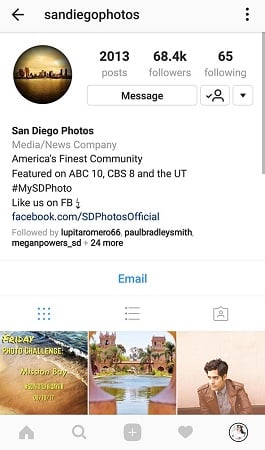 A hashtag in your Instagram bio can be helpful for branding but is not clickable.
Formatting your Instagram bio
You can edit or create your bio by tapping the Edit Profile button in your Instagram profile. In the Edit Profile screen, go to the Bio field and insert the text for your bio. Save any changes when you're finished. Please note that the image below shows the setup for a business profile.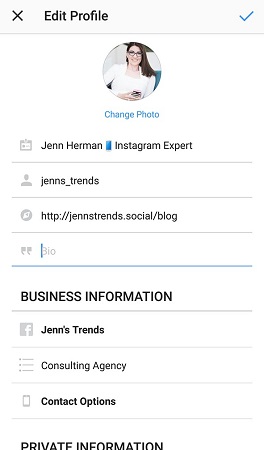 Add your bio in the Edit Profile screen.

Android users can format a bio completely in Instagram. If you want to include line breaks and spacing, tap the Return or Enter key (on the keyboard of your mobile device) at the end of the line. Make sure that you don't have an extra space after the final character on the line and that the last character on the line is not an emoji. Otherwise, the breaks you inserted with the Return or Enter key will not appear in your published text.

iOS users can format a bio in Instagram, but line breaks will not be retained. Instead, it's best to open a note app on your device and use it to craft your bio description, including all formatting. Then copy the bio, open Instagram again, select Edit Profile, and paste the description in the Bio field. As with Android users, you must ensure that no extra space appears after the final character on the line and that the last character on the line is not an emoji.

Your bio can be edited and rewritten as often as you want. It's a best practice to review your bio every six months and verify that the information is still accurate and relevant. If something should be revised, go through the editing steps used to set up your initial bio to change the text.

If you run marketing campaigns or have seasonal content or promotions, you can update your bio to align with these events.
Using a call to action on Instagram to drive website traffic
The last line of your bio should be a call to action (CTA) that directs visitors to click the URL listed below it. The call to action should be clear and actionable but also specific to the action you're asking visitors to do.

Do not simply write Visit our website or Click below. Instead, use something like Get your free ebook here or Shop our new styles now. Include a down-arrow emoji at the end of the CTA that points to where the URL will appear in the bio.

As with the rest of your bio, the CTA can be edited as often as you like. Experiment with different wording to determine which drives the best number of clicks to your website.
About This Article
This article is from the book:
This article can be found in the category: