Instagram's Insights are a great tool for providing an overall view of how your account and posts are performing. However, a number of other analytics tools can help you dive deeper for more in-depth data.
Iconosquare
If you are into Instagram more than any other social media network, Iconosquare might be a great fit for you. Iconosquare offers analytics and content management for Instagram only. Its strong suit is analytics, but it is also a robust content management system that enables you to research hashtags, upload content, schedule content, and sort your content later by topic.

The analytics area is where you can see detailed data about your Instagram account. Iconosquare offers all the standard data that Instagram Insights offers, plus the following:
Daily gained and lost followers
Comparisons about your post's real-time performance versus previous posts
Performance on each of your hashtags and various other ways to see data about what areas of the world are using your hashtags and at what time
Performance based on the filter used
Comparison of your performance versus your competitors' performance
You can also handpick which data you'd like exported into a report, which can be a huge timesaver versus creating your own spreadsheet.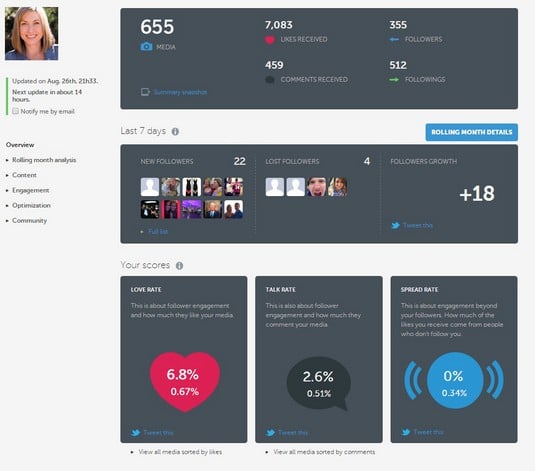 Iconosquare offers more options than Instagram Insights for data analysis, such as hashtag tracking and competitor comparisons.
Iconosquare is a paid subscription app, with costs ranging from $108/year for basic functions (which you can get free on Instagram Insights) to $948/year for more advanced functions for marketing teams.
Simply Measured
Even more robust than Iconosquare, Simply Measured offers all the tools in Instagram Insights as well as these large segments:
Listening: Identify influencers, better understand your target audience and learn more about who is talking about your brand.
Social analytics: Track comments, likes, shares, and overall engagement in an environment that can be filtered and exported easily into a report.
Content share tracking: View which of your URLs are being shared via social media, and track web page bounces and time spent by visitors on your website.
Conversion tracking: Tracks actions on your social posts all the way through to the end action, such as a purchase or registration.
Simply Measured offers analytics on Instagram, Twitter, Facebook, Pinterest, LinkedIn, and YouTube but doesn't offer content management or scheduling components. It is strictly for analytics and is a great tool for an advanced user who is highly focused on the return on investment.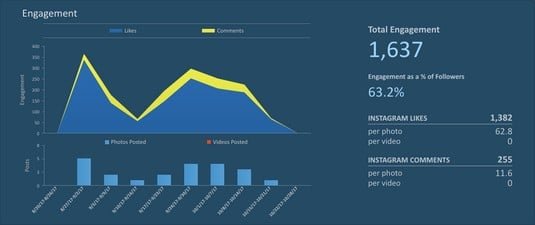 Simply Measured offers high-level analytics for advanced marketers.
Simply Measured is a paid subscription app that starts at $500/month. It is used by large corporations or small businesses that are highly in tune with their marketing data. It does have free analytics tools if you'd like to check there first.
Sprout Social
If you want one app to do everything — including content creation and management, scheduling, analytics, and reporting for most of the major social media networks — Sprout Social has you covered.

Sprout Social offers the following services (and more) for Instagram, Facebook, Twitter, LinkedIn, and YouTube:
Plan, schedule, and post messages
Store content for later use
Edit images with filters or text overlays
Suggest optimal send times
Track post performance by likes, shares, and comments
Track campaign URLs for referral traffic and conversions
Watch Instagram follower growth
Compare Instagram profiles with competitors
Identify key influencers for your brand
Track and report hashtags
Unlimited exports of reports and PDFs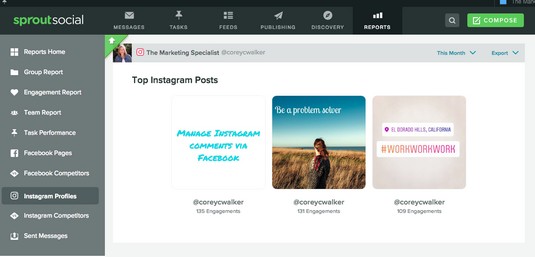 The Sprout Social dashboard offers easy-to-understand reporting for Instagram and most other social media networks.
Sprout Social starts at $99/month, which does not include all features. Visit their site for full pricing and detailed information about which analytics offerings are included in each pricing tier.
Before investing in a monthly or yearly analytics package for any of the third-party apps, research which data you think you'll need. Third-party apps have a lot of extra bells and whistles, but if you aren't going to use them, you're wasting money. It's a good idea to use the free analytics provided by the Instagram app first to see whether they give you enough data to evaluate your results, and then decide whether you need more information from a paid app.
About This Article
This article is from the book:
This article can be found in the category: