It's so easy to tell you what to do with your Instagram account; it's a lot harder to do those things. That's why it helps to see what other great Instagram brands are doing and use them for inspiration.
GoPro
For a big brand, @GoPro understands the effect of using Instagram well. GoPro's content is a mix of people, places, and pets. Although its photos and videos span every corner of the globe, they are cohesive, well branded, and share the same story of adventure and excitement. Here's an example of the posts shared on the GoPro account.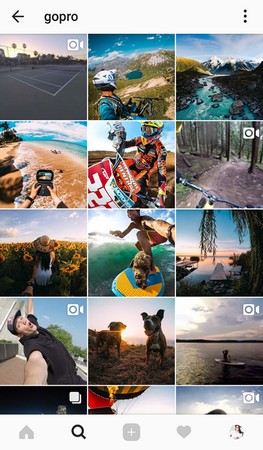 GoPro shares great well-branded content.
The most unique aspect of the GoPro account is that its content is all user-generated content (UGC). Its posts are photos and videos created by its customers, which it regrams (repost) to its account. GoPro chooses only the best content and posts that stay true to its brand's styling and personality.
Beyond the branding, GoPro also does a good job of interacting with its audience, posting fun captions and responding to comments and questions on its posts. GoPro builds engagement and loyalty through this method of communication.
Yellowillow
The @yellowillow Instagram account, run by photographer Anne McIsaac, has beautiful styling in which most of her images incorporate the color yellow. She shares images from her work and life, in a range of topics and locations, but are all tied together with her photographic style and the pops of yellow color.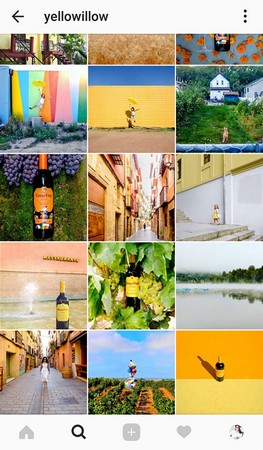 The @yellowillow account incorporates yellow into post content.
Anne incorporates effective hashtag strategies as well as a brief description or story about the post, giving it context and personality. She is also dedicated to her audience, responding to comments and questions to build a relationship with her followers.
Thanks to the size of her audience and the value she has as a brand, Anne collaborates with other companies to create sponsored posts. Even though these posts are promoting another product or company, she ensures that the content stays true to her own branding and personality.
Sugarandcloth
Ashley Rose is a blogger who uses her @sugarandcloth Instagram account to build her brand. Her Instagram posts are a combination of her lifestyle, blog projects, and insights into her many projects. Her images are colorful and vibrant, making them visually appealing to users on Instagram.

She also writes great captions that showcase her personality and style, allowing her to connect authentically with her audience. Below is a sampling of the beautiful images on the @sugarandcloth account.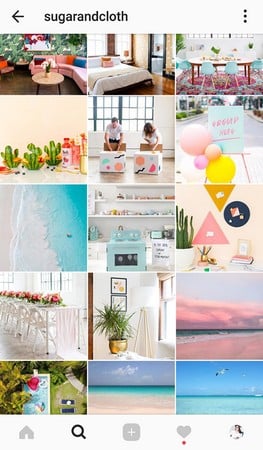 The @sugarandcloth account uses bright, vibrant colors.
Beyond her regular Instagram content, Ashley uses Instagram Stories effectively as well. Her Stories are consistent with her branding and styling but open up her life as a mom, wife, blogger, and business owner. She shares the more personal side of her business and allows her personality to shine through.
RPMItalian
RPM Italian is a restaurant in Chicago, Illinois, that showcases its cuisine, restaurant, and news via its @rpmitalian Instagram account. Every photo has great staging and lighting. RPM Italian effectively incorporates behind-the-scenes content, such as making pasta from scratch or showcasing chefs in the kitchen, while editing and staging the photos to align with its brand styling of plated dishes.

Black and white is the dominant undertone of the images, yet pops of color add visual appeal. This shows you how RPM Italian achieves this brand styling on Instagram.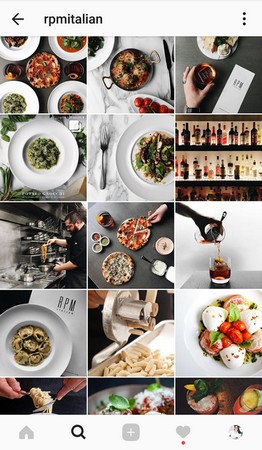 The @rpmitalian account shares a variety of images from its restaurant.
This account also shares posts on a minimal schedule, at most two to three times a week. In this way, it ensures that its content is of the highest quality and has the greatest effect on its audience.
EmilyJoyRosen
Emily Joy Rosen, the CEO of the Institute for the Psychology of Eating, uses her @emilyjoyrosen Instagram account as a micro-blog. Although it's generally advised to keep captions to no more than a few short paragraphs on Instagram, Emily is an example of the exception to the rule.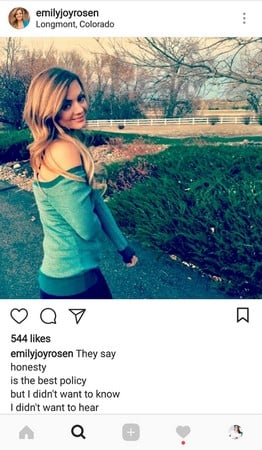 The @emilyjoyrosen account uses long captions to connect emotionally with her audience.
All her posts have long captions, broken up by spacing and formatting, to tell a moving story. Emily connects with her audience through raw, emotional details of her own life. And even though most people don't like to read long captions on Instagram, her audience appreciates her approach and happily reads each post.
Adding to the relationship building on her account, Emily actively engages with her audience in the comments of each post. She offers support and encouragement to those who need it.
TheLoveBombCo
The Love Bomb Company sells coffee mugs and glassware imprinted with witty motivational sayings. Its @thelovebombco Instagram account is a direct representation of its brand, voice, and style. When you view this account — from the bio to posts and products — you immediately get a sense of what this company is about (whether you love it or hate it).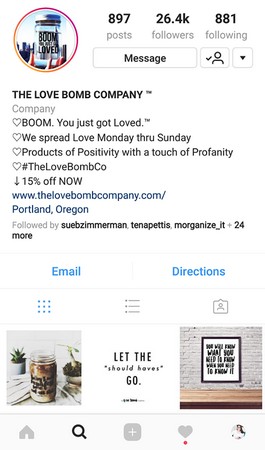 The @thelovebombco account displays its personality and branding clearly.
This company understands that always posting its products can get overwhelming and appear pushy. So instead of only showcasing its products, it includes quotes in branded fonts.
It also connects more authentically with its audience by including user-generated content provided by its customers. This highlights its products in various settings and shows the variety of lifestyles, yet commonalities, of its customers.
The.Book.Report
The @the.book.report account on Instagram makes great use of videos and multi-image posts (also called albums or slide shows), two effective but underutilized Instagram features. Michelle, who runs the Instagram account, provides reviews of children's books and uses her Instagram account to share her opinions as well as a look at each book.

She uses the slide show post to share an image of the book cover and then a series of images or a video to showcase the inside of the book. Her captions contain her insights into the book and its value to other parents.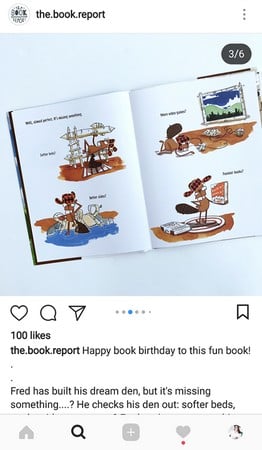 The @the.book.report account uses a variety of features to provide book reviews.
To create trust and rapport with her audience, Michelle also incorporates posts about her family and kids, demonstrating their personal life and interests.
LaJollaMom
The @lajollamom account is run by Katie Dillon, a luxury travel blogger. Her account is full of beautiful photos from around the world, but she also does a fantastic job of sharing educational content. Her captions often include insider tips, fun facts, or other information that her audience finds valuable. This is an example of one of her post captions providing tips on traveling.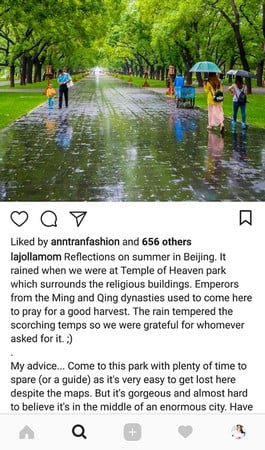 The @lajollamom account uses captions to educate and inform Katie's audience.
Katie often shares personal experiences of her travels with her family as well. It provides transparency to her audience and builds trust with those who follow her.
The photos on her account are personalized but high-quality images that are edited and selected for best performance on Instagram. Katie ensures that she interacts with her followers by personally responding to comments and questions on her posts.
TSA
The TSA — the agency that ensures traveler safety at airports and other transportation facilities — isn't an account you would expect to follow on Instagram. However, the @TSA account understands how to do Instagram well.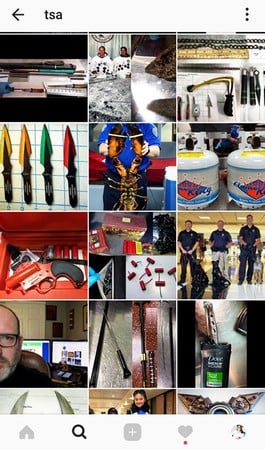 The @TSA Instagram account is full of items people have attempted to pass through security.
It showcases its working dogs and handlers on Instagram, which helps because people love to see dogs on Instagram! It also shares photos of all the wild and crazy items that have been confiscated by TSA agents. In these posts, the captions are used to remind you of prohibited items, so there's an educational component in addition to the humor behind the odd objects.
To keep its account more lighthearted, the @TSA account will often get involved in trending topics or relevant events, such as the solar eclipse or Star Wars Day.
GeneralElectric
For a large engineering company, focused on business-to-business customers, the @generalelectric Instagram account does a surprisingly good job. This account doesn't attempt to focus on large-scale clients. Instead, it builds brand awareness and connects with people on an individual level.

This Instagram account incorporates employee profiles, inside looks at product development, tours of the company's facilities, and information about how things are built. Its posts are informational and educational, yet entertaining to view or read. Here is an example of a fun and informational post about the design of its wind turbines.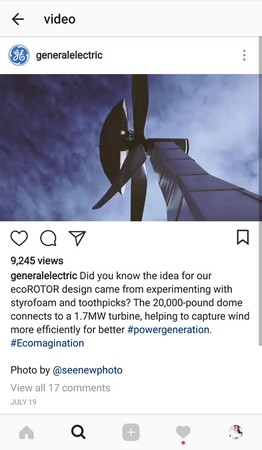 The @generalelectric account shares fun and educational content to build brand awareness.
This account also effectively incorporates photos, videos, and slide show posts to best generate engagement with a wide range of its audience.
About This Article
This article is from the book:
This article can be found in the category: