Jive is a social networking platform for business applications. Jive has described itself as "the leading provider of modern communication and collaboration solutions for business." Essentially a secure intranet, Jive is software that allows coworkers to connect with one another and collaborate on all things business.
Jive Software is a company that traces its origins to 2001, currently operating out of Palo Alto, California. The company also has additional offices in Portland, San Francisco, Boulder, and New York. Jive Software also operates in 10 additional countries outside of the United States and is supported in various languages.
Jive Options
Jive has several different products to meet your business needs. Depending on how you intend to use Jive and the size of your business, you can choose from the following options to make this collaboration tool work best for you and your employees.
Jive-n: Basic Jive platform for employees to connect with one another on a secure intranet.

Jive-x: Collaboration software that allows business partners and customers to interact with business employees.

Jive Daily: News app for your business to help keep employees apprised of important information and updates.

Jive Chime Beta: Secure Messaging App for mobile devices to enable effortless communication with coworkers.
Jive offers you many different pricing tiers and packages to meet all your business needs. To find more information on customizable pricing options, just visit Jive's Pricing Page.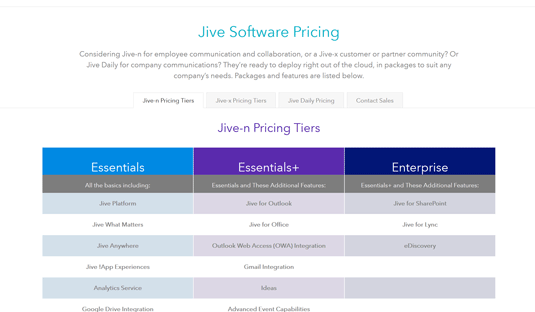 Source: Jive.com
Why Jive?
When people hear the phrase "social networking for business," images of Facebook or Twitter often pop up. Many people find they are often distracted from what needs to be done because they are scrolling through their favorite site. How is Jive supposed to be any different? Well, instead of distracting you from work, Jive provides a social solution that keeps you focused.
In addition to providing a necessary social aspect to the work environment, Jive also offers you the following capabilities:
Find and connect with coworkers

Access Jive from your mobile device

Communicate with employees or coworkers via

Blogs

News streams

Spaces

Activity streams

Join groups

Participate in relevant discussions

Create, edit, and share documents and other files

Provide important updates with Structured Outcomes

Use metrics and analytics tools to make the most of your experience
About This Article
This article can be found in the category: