When starting off with a platform as robust, as multi-layered, and as versatile as Discord, you quickly realize that just downloading Discord is the first step. You might notice other Discord servers have a better sound, sharper video, and a better handle on the capabilities beyond text communication. That's because those servers have made investments in ways other than time and attention. The individuals and teams behind those servers invest in hardware that improves the Discord experience they offer.

If you want to take a look at making your Discord experience a step or two beyond the basics, here are some suggestions of items and accessories that can improve your Discord experience.
Corsair's Void Pro Headset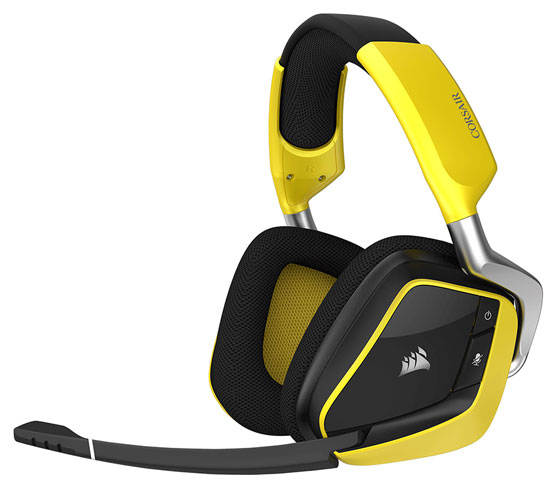 Maybe it is the podcaster in me, or maybe it's dating even further back to when I was a burgeoning band geek in my youth, but quality audio matters. Whether you are using Discord to record interviews for podcasts, working with a team to coordinate a special event, or simply organizing a fireteam for a raid in Destiny 2, quality audio is something that can really make a difference in your experience. It can be incredibly jarring when you are trying to talk to people online and there is that one person who is struggling to hear you or you are struggling to hear them.
This is why, when it comes to audio quality, earbuds of any make and model only offers so much.
Closed-ear headphones are a worthwhile investment, and while there are many headphones on the market, I recommend the Corsair Void Pro Headset at $80, pictured in Figure 11-1. The price may sound steep, but for this price the Void Pros offer impressive features:
Microfiber mesh fabric and memory foam on the earpads
Dolby Headphone 7.1 surround sound delivering immersive multi-channel audio
Custom-tuned 50mm neodymium speakers offering wide range and accuracy
Optimized unidirectional microphone reduces ambient noise for enhanced voice quality
The Corsair Void Pro Headset offers quality sound, quality recording, and comfort. If you are looking for the first major investment into your Discord loadout, the Void Pro is an excellent first step. Venture out to your local electronic stores that carry Corsair products and see if they offer a sound bar that allows you to preview a set before purchasing. It's a great way to get an idea of not only how headphones sound, but also how they feel.
Blue Microphone Yeti X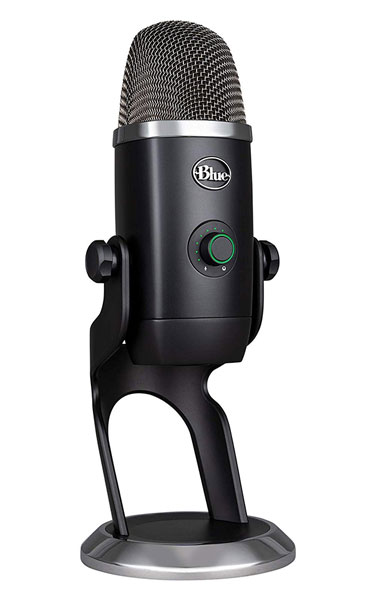 I first saw the Blue Microphone Yeti X ($150, with full specs and demo videos available) at TwitchCon 2019. I forced myself to walk away from it. As you can see, that was not easy. I honestly didn't need a new microphone for my studio, but after getting a personal demo of it, I really wanted this one.
High-res, 11-segment LED meter built into the side of the microphone
Multifunction smart knob offering mic gain, headphone volume, muting, and balance control between your microphone input and the audio coming from the computer
Customizable LED lighting allowing you to personalize the Yeti X. (Hey, it's all in the details.)
Four pickup patterns: stereo, omnidirectional, cardioid, bidirectional
The reviewers at Sound Guys described the Yeti X as "a rather frustration-free experience while giving you the control you need to squeeze as much quality as you can out of a USB microphone. Streamers will find a good ally in the Yeti X." Instead of the limitations of the above featured headset, the Yeti X with its different pickup patterns can be used in studio settings, picking up other hosts or background noise (if desired) when live at an event or mobile setting.
Blue Microphones have always known what they are doing when it comes to USB microphones. The Yeti X (and its little brother, the Yeti Nano) is another incredible innovation that can improve your Discord signal. If you are looking to expand your studio, this is another worthwhile investment.
MXL 990 XLR Microphone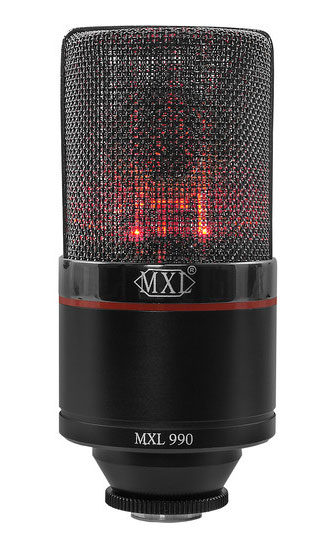 We have been touting the USB microphone for good reason. USB mics have come a long way in the 15 years I've clocked in as a content creator. When you look at the variety of mics on the market, their features, and (more importantly) the high quality of audio they capture, it would be wrong to dismiss how good USB mics perform.
But there is a good reason why XLR microphones are still an industry standard.
Yes, XLR microphones do start on the higher end of the economic structure, but one reason of many they remain so much in demand with content creators is their versatility. Instead of one USB mic taking up a port and serving as the sole input signal, multiple XLR microphones can be plugged into a preamp or a mixer board, offering multiple audio input sources for your studio. So when you have multiple people in studio and Discord is working as your base for a podcast or some other kind of group-oriented stream (outside of gaming), XLR microphones make sense.
And when it comes to XLR microphones and the many I have used in my years, the MXL 990 remains a favorite.
The MXL 990 has been called groundbreaking by audio professionals on account of the 990 being a high-quality condenser microphone that is considered affordable by the mass market. A couple of reasons the 990 is able to capture sound so well has to do with a field effect transistor (FET) preamp and a large diaphragm within the microphone. That is super audio nerd-speak for the inner-workings of the 990 creates a robust signal that results in a brighter, balanced output, retains high, low, and midrange audio reproduction.
This was my first microphone when I got into content creation, and the fact it comes with a shock mount specific for the 990, a mic stand adapter, and a carrying case is something of a bonus. This mic comes in at $65 but you might find other variations of the 990 with higher price tags, the Blaze model shown. Take a look at the specs and look for any add-ons or packages it is part of, as that can affect the price.
Shure X2u XLR-to-USB Microphone Adapter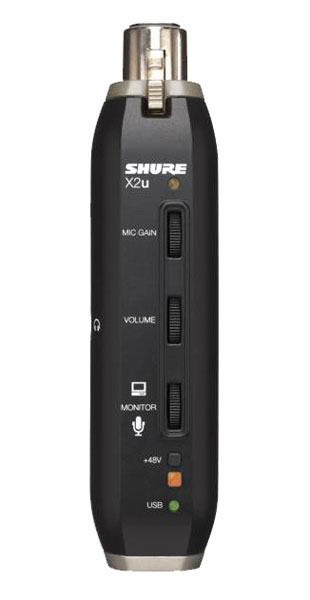 If you are looking ahead to expand in the future, investing in an XLR microphone makes sense. This way, you don't feel like you have a USB mic gathering dust while you have your new XLR taking the lead. Before you upgrade your studio, though, how do you get a mic connected? Either purchase a USB mic only to retire on upgrade, or pick up an XLR but have no microphone for your Discord.
Or you can make the most of your XLR microphone and pick up an XLR-to-USB microphone adapter.
The Shure X2U XLR-to-USB adapter serves as a bridge between your XLR microphone and your computer. The device has a female XLR connection on one end and a male USB connection. XLR-to-USB adapters provide phantom power, making it something like a handheld preamp. Remember, if the mic cannot work with phantom power, the mic won't work at all. With this bridge, you and your XLR are ready to go.
Other features of the Shure X2U include a small 1/4-inch jack for headphones or hardwired earbuds, both monitor and volume control if you are using the headphones feature, and finally, gain control in case your mic needs a little kick to pick up your input. The best part of using an adapter is you can still use it with a laptop computer once you take your Discord studio to the next level with a mixer board.
When working with USB mics, there is usually one source. You cannot plug multiple USB mics into a hub and record all signals coming in. Each mic Discord will recognize as an independent, dedicated audio source.
Røde Boom Mic Stand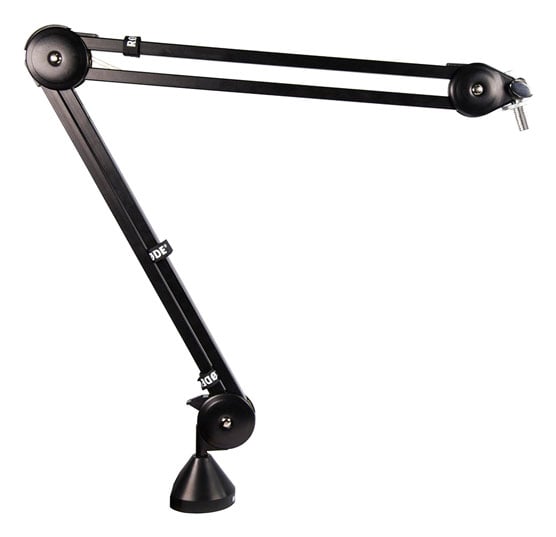 Why is a mic stand such a big deal?
True, many USB mic either come with their own mic stands or are part of the headset you have for your gaming. If however, you are looking for something more out of your Discord and your studio altogether, or if you are upgrading to XLR microphones that do not come with mic stands (but they do come with attachments for mic stands so riddle me that, Batman) then you are going to need a mic stand.
Are boom mic stands expensive? Yes. Are they fantastic to work with? Oh absolutely.
The nice thing about boom mic stands, like the Røde Boom Mic Stand is that these mic stands lift the microphone off the desk and closer to you. By doing this, they free up desk space so you do not have to carefully position your keyboard, mouse, or any other peripherals around the microphone itself. A hidden, underappreciated bonus with boom mic stands is they help you keep a better posture when at the desk. It is not unusual for people to slouch around a desktop mic stand, which is one reason why boom mics are so commonplace in recording studios. Instead of hunched over, you are eyes up and straight-backed, making you breathing and your posture that more confident. All this comes out in your presence when on comms, as well. Boom mic stands can also free up desk space for you to have your thoughts organized if you are hosting on Discord an interview or an event organization.
Boom mic stands can either be secured to a desk or table, or can be standing independently off to one side of your setup. They range in price based on the kind of mic stand you purchase. No, you may not have the budget to start out on Discord with a boom mic stand, but it is something to keep on your studio improvements list for future upgrades.
Logitech C922 Pro HD Stream Webcam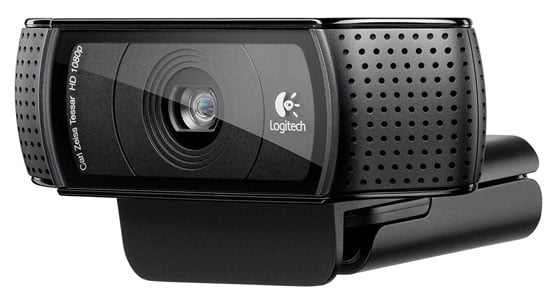 Looking up webcams, USB-powered cameras specifically geared for streaming video, yields a lot of various makes and models ranging from just under $20 to nearly $200. That's a pretty big jump as far as accessories go, so exactly what are you paying for with these various models.
Perhaps the two biggest differences between webcams, including the ones build into laptops, are their video resolution and maximum video frame rates. The video resolutions of camera will tell you exactly how good your image will look when you are streaming video. A $20 camera will come with 1280 × 720 pixels while the built-in camera for a MacBook Pro has a resolution of 2880 × 1800. At the top of the heap, a 4K camera will shoot as high as 4096 × 2160. Video frame rates also play into the clarity of your video signal. While the $20 camera and MacBook Pro have different screen resolutions, both capture at 30 frames per second. The more frames per second, the sharper the image. This is why some higher quality cameras can capture at 60 frames per second.
If I suggest a webcam that can offer you great results without breaking your budget, the Logitech C922 Pro HD Stream Webcam offers a lot of top-shelf features at $80. Coming with either an optional tripod or attachments for the top of a monitor, the C922 captures at a high definition rate of 1920 × 1080 at 30 frames per second, or at a lower resolution at 60 frames per second. Other features include automatic low light correction, and the utility Personify, which can replace a bland, bare background with something more dynamic.
Video may not be a big deal for you on Discord, but if the streaming feature continues to evolve and your own need for videoconferencing begins to rise, consider the C922 and its capabilities and what it can offer your server.
ZOMEi 16-Inch LED Ring Light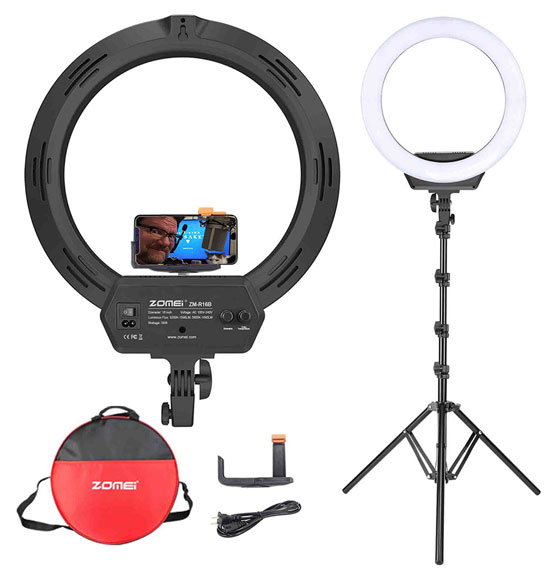 Ring lights are all the rage for influencers, streamers, and photographers. These accessories are used with SLR cameras, webcams, and smartphones as an economic solution to full-on professional lighting kits, and as they are LED lights, there is low heat output. Ring lights have become a solution for streamers struggling against poor or dim lighting, and can offer hosts of webinars and videoconferences a way to avoid what I call the "Witness Protection Program" effect where a subject is backlit. You hear them. You just don't see them. If you are having issues with your Discord video and being seen, a light ring may be what you need.
The ZOMEi 16-inch LED Ring Light Kit is full of features and accessories that can help you light yourself before going live. In the light ring itself, two-toned LEDs can adjust color temperature and brightness, which is especially helpful when working with green screens (if green screens are something you want to work with). The ZOMEi provides plenty of fill light while still allowing for continuous natural light to help out.
Along with the ring light himself, the ZOMEi kit comes with an adjustable 18- to 670-inch light stand and can rotate 180 degrees, perfect for live streaming, or videoconferencing. The kit rounds off with a phone holder, power adapter, and a tote bag for this kit to make all this portable.
You may not need the kit if you are not interested in the videoconferencing aspects of Discord. However, if you want to make sure your lighting is on point, the ZOMEi option can do a lot for improving the quality of your video.
Some models of webcams come with light ring attachments of their own. These webcam's built-in solutions may have limitations; but if you are looking for quick and dirty solutions to inadequate lighting, take a look at UNZANO PC Streaming Webcam with Ring Light or the Razer Kiyo Streaming Webcam, both models equipped with modest lighting.
Mee6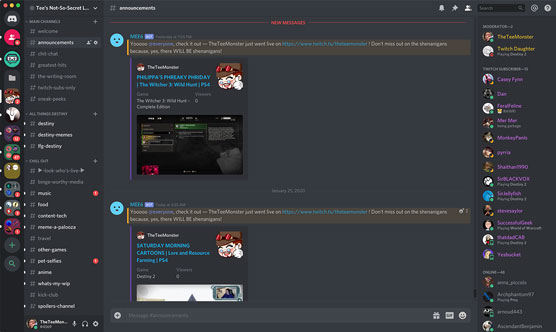 Bots are usually not welcome on social media platforms. If you are dealing with bots, you're dealing with automated messages spamming malicious links or suddenly following you on Discord, Twitter, Twitch, and other platforms. Rarely are these unwelcomed, unwanted guests on social media doing anything good, but there are exceptions to the rule. Not all bots are jerks, and I've got three here that are worth your attention with Discord.
Mee6 wants to actually help you make your Discord server a better place to be. (Yeah, the reference is subtle, but it's there.) The bot is quick and easy to install and performs tasks that help you be more productive. Some of the things Mee6 does for you include:
Customized welcome messages that truly make an arrival to your server memorable
Gamification of things people do (make posts, share media, and so on), encouraging activity from your server members
Additional security from spammers and trolls
Automated alerts for when you go live with a stream, post a new video on YouTube, or begin a new thread on Reddit
If you are a programmer, you can also use Mee6 to create custom commands assigned to roles in your server. You have a lot to do when you are managing a Discord server, especially if it is a busy, bustling server. Mee6 is that friend in your corner that happily says "Can do!" and undertakes redundant tasks that need to get done. So, feel free to lean a little on this blue bot. Mee6 is there to help.
Carl-bot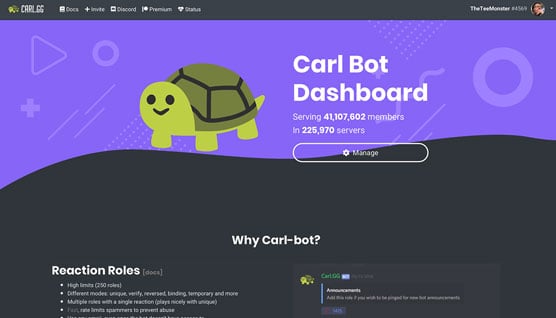 Another bot worth mentioning as an essential for Discord is Carl-bot. For our #welcome page, we used Carl-bot to create what was called a reaction role, a role created once the appropriate reaction is made to a post in a designated channel. Reactions roles are only one feature available from Carl-bot.
Along with creating reaction roles, you can also create:
Create logs for just about every activity from generation of invite links to message management to server updates
Advanced moderation over your server including bulk management of roles and additional mod commands from the default Discord commands
A suggestion box for your server that you can manage easily
Advanced permission systems that allows both you and Carl-bot to moderate your server without interfering with conversations that matter to you
Carl-bot can do a lot for you and your server. Similar to when connections are made to applications, Carl-bot create roles and commands suited to your exact needs and wants for your server. When you can, take a closer look at what you can achieve with Carl-bot as part of your server.
Exclusive content shared on your Members Only channels should remain there. If you have members of exclusive channels sharing your content on open channels, have your mods remove the content as soon as possible and then ask the server member to refrain from sharing exclusive content on open channels. If the same server member shares such exclusive content again, consider a timeout or (if it's really an issue) ban. Moderation isn't easy, and sometimes hard choices need to be made. Exclusive content should remain exclusive.
Nightbot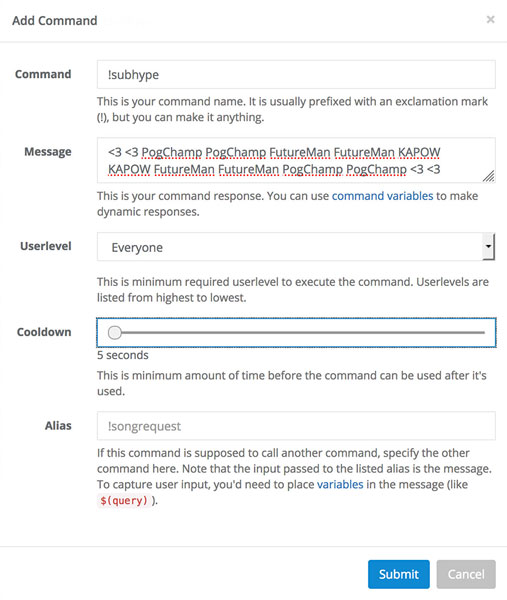 We finish up our essentials of Discord with Nightbot. Nightbot is a virtual assistant, similar to Mee6 and Carl-bot, and is managed by you and mods to help a stream run smoothly and efficiently. When triggered, commands type into Twitch's Chat window different kinds of messages. They can be visual (like an emotes cheer as seen in the figure), links to your Discord server, or just simple text messages.
With an integration of Nightbot into your own server, you can bring over from your stream a variety of quick shortcuts:
Greetings/Icebreakers: A command reading "Good morning, Twitch Monsters! Make sure you say 'Hi' and @TheTeeMonster will give you a shout on stream!" welcomes newcomers and regulars to your stream to start talking.
Shout-outs: If you're talking about a content creator you met at a meetup or online somewhere, dropping a shout-out is a good thing to do.
Relevant links: If you have a product or service you want to promote with a quick command (the command itself being a quick description of what the product/service is and a URL point to more information, contracting details, and so on), you can create a quick promo to share with your Chat.
Nightbot also offers spam protection from trolls; and offers Blacklists of various terms and phrases that, when triggered, immediately timeout offenders. It also gives your mods an opportunity to look over these potential trolls (sometimes, people just make mistakes) and see if it was an honest mistake or not.
Connecting this virtual assistant to your Discord server brings all the perks of Nightbot streamers enjoy to your Discord. Spam protection. Custom commands. The things that Nightbot helps streamers everywhere take care of is now accessible with Discord servers.
About This Article
This article is from the book:
This article can be found in the category: