Are you tired of the struggle to find the best gas prices? GasBuddy is a helpful app that lets you find and report gas prices. Whether you're traveling or just need cheap gas on your daily commute, GasBuddy can help.

GasBuddy is a helpful tool for getting gas at the best price.
Downloading GasBuddy
GasBuddy is available for the Android, Blackberry, iOS, and Windows platforms. The app is free and easy to use. If you haven't already, click on the link below that suits your device to download GasBuddy.
Using GasBuddy
No registration is required to use GasBuddy. When you launch the app, you can begin searching for gas prices immediately. At first glance, the app will also provide you with the average price of gas and whether prices are trending up or down.

Simply choose the Find Gas Near Me icon that is prominently displayed or type a location or zip code in the search field provided.
Choose this direct method of finding gas with GasBuddy.
If this is the first time you are using GasBuddy, you will need to enable access to your location. This is necessary for GasBuddy to provide you with location specific gas prices. You can choose to Allow Location Access Always or While Using the App. Choosing Always allows the most functionality so that GasBuddy can send you the most accurate information.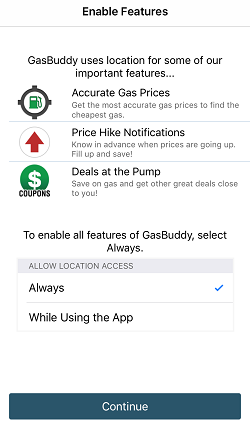 Enable location services to get gas prices with GasBuddy.

GasBuddy relies on the social aspect of user reports to provide users with the most up-to-date gas prices. Next to each gas price, you will be shown when the gas price was last updated by a user.

You can choose to view gas prices By Distance, By Price, or By Top Tier.
By Distance: This displays gas prices beginning with the gas station nearest you.
By Price: Filtering by price provides gas prices listed with the lowest prices near you.
By Top Tier: Choosing this option displays gas stations near you that only provide top tier gas. Top Tier refers to the amount of detergent added to gasoline which can impact emissions and vehicle performance. The gas stations that you see displayed by this filter avoid lower quality gas.
Under each of these filters, you can choose to view prices by list or by map so that you can view the information in the format that is most helpful to you. Also, unless you make changes, the default information you see reflects the price of Regular gas. You can easily modify this setting by selecting the Fuel Type button at the bottom on the screen.

If you choose to Sign Up for GasBuddy, you can receive points for reporting gas prices. You can also take part in daily and weekly challenges. Your participation in the app helps you earn leaderboard points which can be used to enter drawings for free gas. And who doesn't like free gas?
Signing up for GasBuddy
If you decide you want to sign up for GasBuddy, the process is easy. Just follow these simple steps.
Select Sign Up. You can sign up for GasBuddy using your email address, Facebook login, or Google account.
Verify authorization or enter email address. If you choose to use a third-party login, you must authorize the site to continue using your identity. Otherwise, enter your email address.
Choose a nickname. This will appear as your username to other GasBuddy users.
Enter your country.
Enter your zip code.
Choose a GasBuddy password.
Accept the Terms of Service.
Congratulations! You're registered for GasBuddy.

Once you have signed up, you will see a chart displaying your points, points used, ranking, and the number of gas prices you have reported. View your full profile to make changes and view your GasBuddy history. Happy hunting for gas prices!
About This Article
This article can be found in the category: