eBay is more than just a Web site for buying and selling stuff. eBay is about people connecting with people. And a key (and free!) way to make eBay your online home is to create an About Me page.
The About Me page is basically a personal Web page, and thousands of eBay members have created them. The About Me page enables you to personalize yourself as a bidder to sellers — and as a business to prospective bidders. Sellers usually like to know about their bidders to build confidence in their trading partners. Your About Me page also becomes your About the Seller page if you have an eBay store.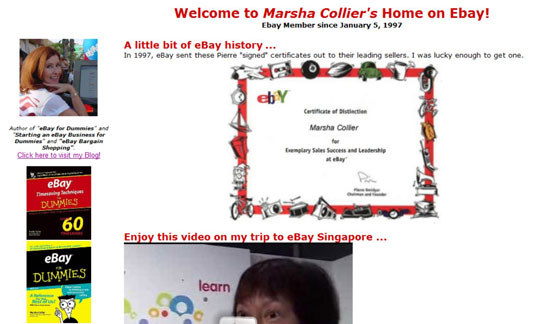 If you don't have an About Me page, plan for and set up one immediately. You're About Me page doesn't have to be a work of art; just get something up there to tell the rest of the community who you are. You can always go back later and redesign it.
As you plan your About Me page, put some thought into the information you want to share, including
Who you are and where you live.

Your hobbies. If you collect things, here's where to let the world know.

Whether you run your eBay business full-time or part-time, and whether you have another career.

The type of merchandise that your business revolves around. Promote it here; tell the reader why your merchandise and service are the best!

Your most recent feedback and a list of your current auctions.
When you begin to sell on eBay, your About Me page is an important sales tool — so take some time when you create your page. A well-thought-out About Me page improves your sales because people who come across your auctions and check out your About Me page can tell that you're serious about your eBay activities.
About This Article
This article is from the book:
This article can be found in the category: