You probably don't want to talk for long periods of time through your Apple Watch — if only because it eats up the battery. The solution to this is wirelessly handing off the call to your iPhone.
By the way, this "handoff" feature is available in other apps too and not just for phone calls. It's ideal for when you want to transfer what you're doing to another compatible and nearby iOS device (iPhone, iPad, or iPod touch) or Mac computer. It's part of Apple's Continuity feature over Wi-Fi and includes such apps as Calendar, Reminders, Messages, Mail, Contacts, Maps, and more.
Handoff should already be enabled on your Apple Watch, but if it isn't for whatever reason, use the Apple Watch app on your iPhone and in the Settings you can enable the feature: My Watch→Settings→General. Simply flick the tab to green to enable Handoff.
If an Apple Watch app can be "handed off" to iPhone, you should see the Handoff option inside the watch app, and once selected, you can simply tap the icon in the lower-left corner of the iPhone screen to complete the handoff to your phone.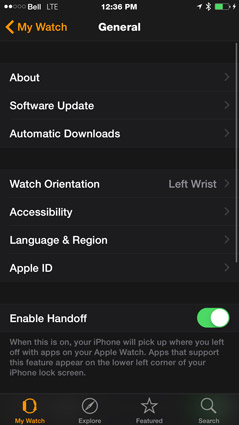 Apple says this about a handoff: "When this is on, your iPhone will pick up where you left off with apps on your Apple Watch. Apps that support this feature appear on the lower left corner of your iPhone lock screen."
To use Bluetooth for handing off a call, when a call comes in, slide up from the bottom of the watch screen for a list of options, including handing a call off to another Bluetooth-enabled device — be it the iPhone itself, a hands-free Bluetooth headset, or perhaps a Bluetooth-enabled stereo in your vehicle. Doing this transfers the call to the desired device.
Also, don't forget about the Digital Touch feature built into Apple Watch. In supported apps, simply press and hold the screen to bring up a submenu of options. For example, when you're in the Phone app, you'll see options to access your Favorites (pulled from your iPhone):
Recents: Recent people you've spoken to.

Contacts: Those from your iPhone.

Voicemail: To quickly pick up your messages.
About This Article
This article can be found in the category: