Apple Watch is on your wrist, so the main way you interface with it is with your fingertips. But you have a few different ways to do it. You can use your fingers on the Apple Watch screen to tap, double-tap, press, two-finger press, and swipe. The Digital Crown button and the Side button also help you access myriad features on your Apple Watch.
Tap
Tapping on something, such as an icon, is akin to hitting Enter on a computer. Or clicking the left button on a computer mouse. Tapping confirms a command and is the frequent method for interacting with Apple Watch.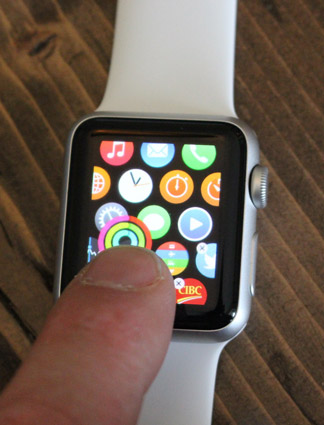 Speaking of taps, you can also send a tap to friends and loved ones to let them know you're thinking about them. Apple calls this its Digital Touch feature — a communications option within the Friends app. Select someone in your Friends ring and choose a person to send a tap to, which is felt as a subtle vibration on his or her wrist via an Apple Watch.
Double-tap
You might not use double-tap very much, but Apple Watch does recognize this action. Once you've enabled Accessibility settings — by triple-clicking the Digital Crown button; you can also have text spoken to you in a humanlike voice by double-tapping the screen. This is called VoiceOver. Alternatively, this feature works by simply raising your wrist. Another Accessibility option is Zoom. Quickly tap twice on the screen with two fingers for a closer look at text or images.
Press (Force Touch)
Apple Watch understands the difference between a light touch and a deep press and reacts accordingly. That is, you can quickly tap, as explained in the "Tap" section, or press with your finger and hold for a second to trigger access to a range of contextually specific controls. Apple calls this Force Touch.
When you use Force Touch, pressing firmly on the screen brings up additional controls in such apps as Messages, Music, and Calendar. It also lets you select different watch faces, pause or end a workout, search an address in Maps, and more. Force Touch is the most significant new sensing capability since Multi-Touch.
Two-finger press (heartbeat)
Let someone special know you're thinking about him or her by sending that person your heartbeat. The catch? He or she also needs an Apple Watch. Press two fingers on the screen at the same time and the built-in heart rate sensor records and sends your heartbeat to a loved one, who will feel it on his or her wrist.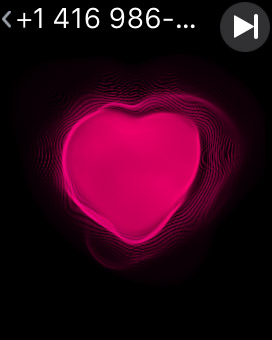 Swipe
Like most other mobile screens in your life — such as a smartphone, tablet, and many laptops — Apple Watch also supports on-screen swiping. If the app supports it, you can swipe around using your fingertip. Or you can call up Glances by swiping up from the bottom of the watch face.
Sketch
Just as you can tap, press, and swipe on the Apple Watch screen, you can also use your finger to draw something quickly on the small display and then send it to someone else who wears an Apple Watch. Apple calls this a sketch.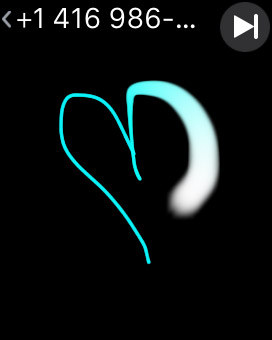 Not only will the person you send your sketch to see on his or her Apple Watch what you drew, but that person can watch your sketch come to life with animation — and then respond back with a personal sketch.
Digital Crown button
If the watch is worn on the left wrist, this button is on the top-right side of the Apple Watch case, and it looks like a crown on mechanical watches, but for the Watch OS platform, it's used primarily to magnify content on the small screen without your fingers getting in the way of content.
Instead of pinching to zoom, as you would on an iPhone or iPad, twist the Digital Crown forward or backward to zoom in and out of photos or maps or to quickly scroll through contacts, songs, and more.
Use this list to determine how to use the Digital Crown button for a specific task:
To return to the Home screen: Press the Digital Crown button once to return to the watch's Home screen.

To return to the clock/to return to the most recent app: Double-click the Digital Crown button to see the clock again. Double-click the Digital Crown button again to go back to the last app you were in.

To activate Siri: Press and hold the Digital Crown button to launch your voice-activated personal assistant. Or you can just say "Hey, Siri" into your watch, followed by a question or command.

To zoom/scroll: On the Home screen and in supported apps, twist the Digital Crown button forward or backward — as if you were winding your watch — to scroll through lists or zoom in on a photo, a map, the Home screen, and more.

To open the Accessibility settings: Triple-tap the Digital Crown button to bring up the Accessibility options, including visual and hearing aids.
Side/Power button
Apple Watch has another handy button that's located just below the Digital Crown button on the right side (if Apple Watch is worn on the left wrist). Depending on whom you ask, it's called the Side button, the Power button, or the Friends button — the latter of which refers to its primary feature.
The following is a summary of the Side button's features:
Friends: Press the Side button once to access your Friends ring. Then, you can choose to call or message someone or, if that person also has an Apple Watch, you can send him or her your heartbeat, taps, or drawings.

Power: Press and hold the Side button until you're prompted to turn off the power. You probably won't use this very much — just like you don't power down your iPhone or iPad often. But you can if you want.

Pay: Double-tap the Side button to launch Apple Pay — for when you're about to buy something. Remember, Apple Pay requires skin contact to operate, so ensure the watch is snug on your wrist before you press the Side button twice to launch Apple Pay.
About This Article
This article can be found in the category: