Whether Apple Watch will be a viable gaming platform is still up for debate, and developers have a few obstacles to overcome — a tiny screen, limited user interface, and questionable battery life — but where there's a will, there's a way — and an app for that! Gamers love to play anywhere, anytime, and on any device, so "time" will tell whether the wrist will be the new place to game.

That hasn't stopped a number of game developers from creating digital diversions on Apple Watch, many of which were announced even before the watch became available in spring 2015.

The following is a look at 10 great games. Remember, to find and download these games and other apps, you can do it in two ways: open the App Store on your Apple Watch or launch the Apple Watch app on your iPhone and then tap the App Store tab in the lower-right corner of the screen.
Watch This Homerun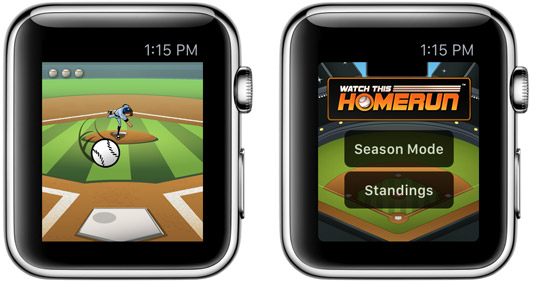 From Atlanta-based Eyes Wide Games comes the first of many sports games. Watch This Homerun is a watch-sized baseball experience, delivering bite-sized (10- to 15-second) game experiences. The game has you touch the screen at the right time to whack baseballs — be they fastballs, curveballs, or changeups — into the bleachers, with inaccurate taps sending you back to the bench.
The game's companion iPhone app tracks competitive leaderboards, achievements, and personal stats against friends and the rest of the community. Future one-touch sports games include football, basketball, soccer, and boxing, says the developer.
Trivia Crack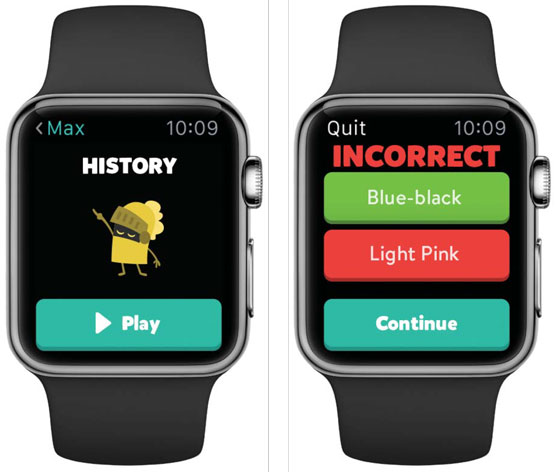 One of the biggest trivia games on iPhone is also available for Apple Watch. Trivia Crack lets you play rounds of pop culture trivia — without ever taking your iPhone out of your pocket. Animated characters guide you in defeating all your opponents while you answer millions of questions submitted by users from around the world.
Questions appear on the watch's screen, and you can answer them right on the watch; after an opponent answers and it's your turn, you're notified from your watch and can continue playing from there. Example: What's Muhammad Ali's real name? Rocky Balboa, Rocky Marciano, Anderson Silva, or Cassius Clay (correct answer).
Runeblade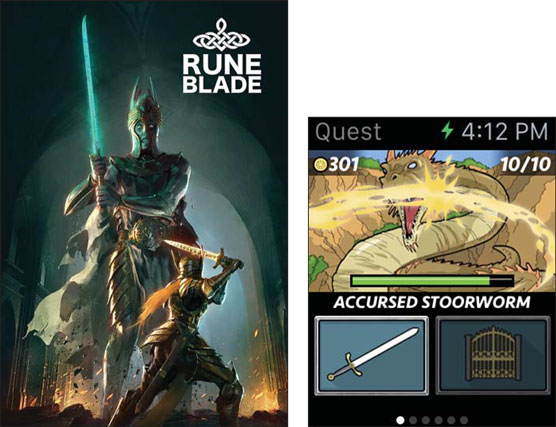 Gamers looking for a richer gaming experience might consider Runeblade, a fantasy adventure RPG (role-playing game) that's simple enough for anyone to pick up and play but offers far more depth for players looking for a deeper experience, says Everywear Games.
The company's first Apple Watch title increases in depth and complexity over days, weeks, and months of gameplay, although games are designed to be played in 5- to 15-second sessions.
The game stars you as a High Priestess of the War Mages, challenged with stopping an ancient menace from consuming the realm as you use might and magic to defeat mystical creatures, unlock new spells and abilities, and level up to grow stronger over time.
Best Fiends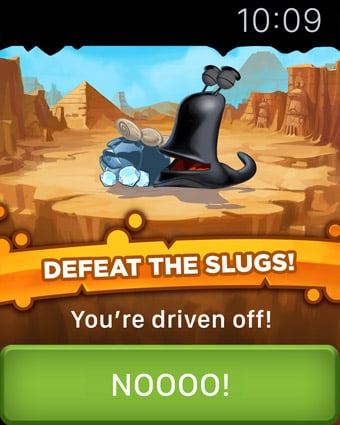 If you like such matching games as Candy Crush Saga, Apple Watch owners might enjoy tapping through Best Fiends — one of the first mobile games for the platform and based on the popular iOS version. In the single-player puzzle game from developer Seriously, players explore the lands of Minutia, collect treasures, and battle the malevolent Slugs of Mount Boom.
What's more, players earn rewards that can be applied to their Best Fiends game on their iPhone — used toward leveling up characters, unlocking new powers, and defeating enemies. In the iOS version, players drag a finger up, down, and diagonally to match identical items on an obstacle-laden game board.
Snappy Word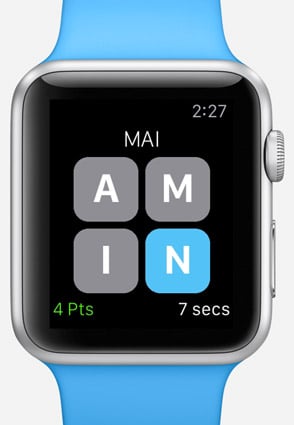 Australian developer Right Pedal has released Snappy Word, a word game that places four random letter tiles on the watch face. By tapping the letters in order to create words, your goal is to see how many words you can create in 30 seconds. For example, E, M, S, and A can create such words as same, mesa, and as.
Also playable on iPhone, iPad, or iPod, this Apple Watch game includes a real-time player-versus-player mode, or you can compete against others through the Game Center leaderboard. Snappy Word's dictionary is said to be made up of nearly 4,000 words.
Watch Quest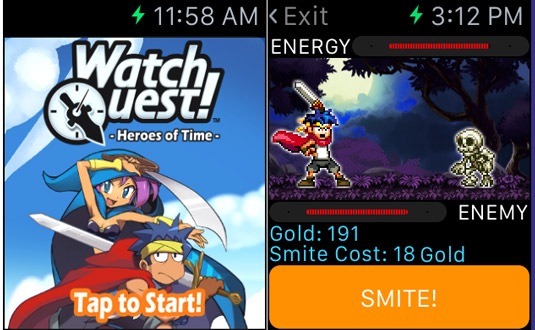 Even before Apple Watch debuted in the spring of 2015, buzz amassed in the gaming world over an adventure title called Watch Quest. Players first choose characters on the companion app for iPhone, equip them with gear, and then have them embark on a quest on Apple Watch — filled with engaging in combat, solving puzzles, and hunting treasure.
Starring a male or female protagonist, this colorful game includes passive play — slower-paced and easier quests — and more difficult active play, including battling monsters and foraging for items. Watch Quest is free to download and comes with one training campaign, but you have to pay for additional quests and characters from within the iPhone app.
Spy_Watch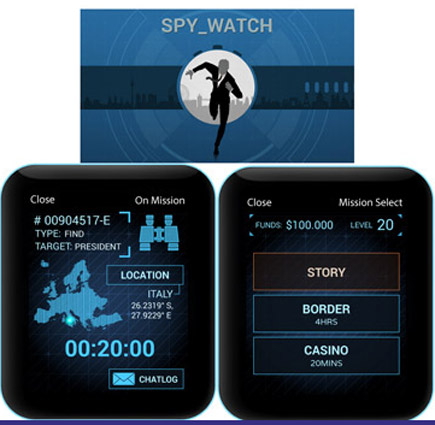 One of the more intriguing offerings sneaking onto Apple Watch is from UK-based indie developer Bossa Studios — best known for Surgeon Simulator and I Am Bread.
In Spy_Watch you're the head of a spy agency that's seen better days. To turn the agency around, you must train spies, send them on secret missions, and earn money to improve their abilities.
According to the developer, this ambitious Apple Watch game centers around short bursts of real-time alerts between you and your agent in the field, which take place in two- to five-second rounds. As the agency head, you need to make strategic decisions on the fly that will ultimately affect the success of the missions — be they related to time, resources, or locations. No guarantees you'll look as suave as James Bond while tapping on your wrist.
Rules!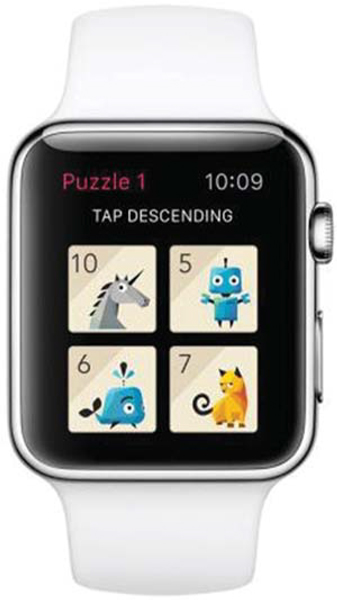 With the iOS version taking home multiple award nods and an official App Store pick, Rules! was one of the first games announced for Apple Watch. And it still remains popular today.
In case you haven't played the hit action puzzler from The Coding Monkeys, you're tasked with tapping tiles based on the rules for the level, such as "Tap numbers in descending order," "Tap green" (tiles) or "Tap animals" (opposed, to, say, monsters or robots). Each level, the rules then revert to an older one, and you must remember what they were.
Along with its 100+ memory-testing levels, there's also a daily "brain workout" mini-game challenge, an animated sticker pack, multiple difficulty settings, and other noteworthy features.
Wordie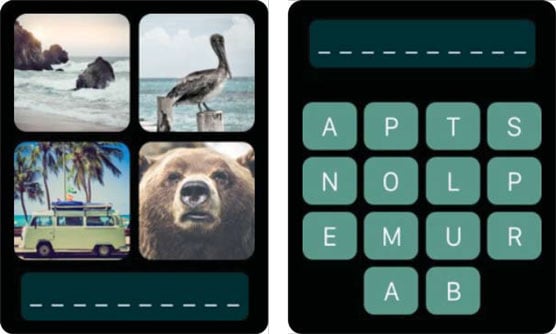 Another great word game is just like other versions — on iPhone, iPad, and in iMessage — but is now playable on your wrist. ICO Group's Wordie is a fun game that shows you four photos and has you guessing the common word between them.
For example, you might see a photo of people picking up trash in bags, a woman undergoing facial surgery, a ball pit at a playground, and a vinyl record. The answer here is PLASTIC, which you guess by the number of spaces available (like Hangman) and available letters to choose from.
There are more than 600 puzzles; plus you can create your own and share with friends.
If you're stuck on a level, you can also ask your friends for help on social media or use hints.
Cosmos Rings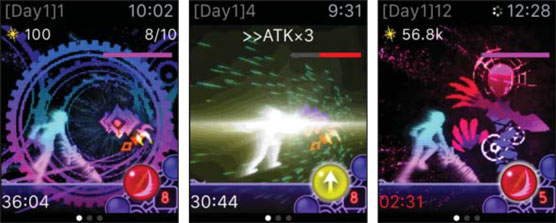 From Square Enix, the same company that introduced Final Fantasy and Secret of Mana, comes a mobile adventure with charming pixelated graphics. This simple-to-pick-up yet surprisingly deep role-playing game (RPG) offers a unique combat mechanic designed for the small screen: while basic attacks are automatic, you must enable powerful skill relics, strengthen your sword, and initiate a chain sequence to battle your way through this dark world.
Need to go back in time to retake a mission? Simply twist the Apple Watch's Digital Crown to turn back the clock!
About This Article
This article can be found in the category: