Every Xbox 360 can play DVD movies right out of the box — with no additional parts necessary. Watching a movie on the Xbox 360 is a straightforward process.
If you have Xbox 360, you probably don't need a separate DVD player.
Console operation
It's easy to start a DVD movie with Xbox 360:
The movie is loaded automatically if you do either of the following:
• Pop the DVD into the tray (like a game disc)
• Switch the console power on with a DVD in the drive
If you have a movie in the drive when you're using the Dashboard, you can pick the Play DVD option from the bottom of any of the blades.
When the movie loads, the movie's menu screen usually appears automatically. You can use the arrow keys and OK button on your remote control (or the directional pad and A button on a regular Xbox 360 controller) to start the movie.
Remote c ontrol
Although you can watch movies with no additional hardware, you will probably find it useful to have an Xbox 360 remote control.
If you're watching a DVD and press the Xbox Guide button (the orb with an X carved into it) on the remote, you're taken right into the Dashboard. The rest of your Xbox's features are never far away.
Two Xbox 360 remotes are available:
A larger remote (called the Universal Media Remote).
Figure 1 shows the Universal Media Remote.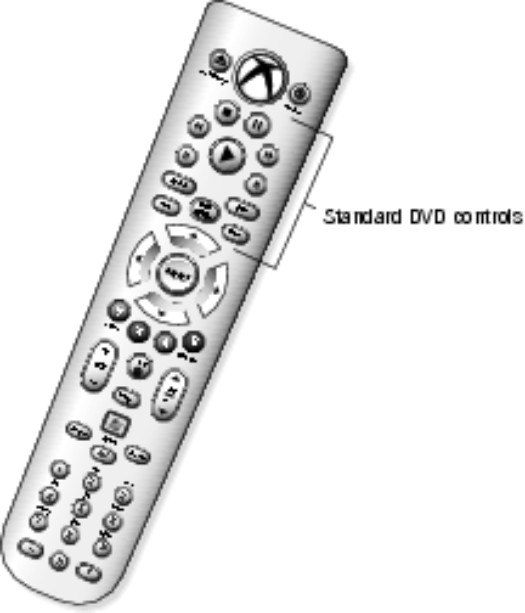 This is sold separately for use with any Xbox 360 console. This remote has more features for your complete home entertainment system, such as:
• TV volume control
• TV channel selection
The Universal control even lights up when you press it. That makes watching scary movies in the dark even better!
A small remote known as the Media Remote.
This remote is included with some of the first Xbox 360s sold (but it works with any Xbox 360 console).
Either of the Xbox 360 remotes can perform standard DVD activities, such as:
Parental control
Any parental controls you've set up are in effect when you play a DVD. You need to enter a pass code before viewing content that exceeds the allowed rating.
Progressive scan video
Progressive scan is a feature of the DVD output in the Xbox 360 (and is a standard feature of most recent DVD players) that produces smoother output when playing movies on televisions that support high definition.
Progressive scan video only works when:
Your console is hooked up to a monitor that supports a resolution of 480p (such as any high-definition TV, or HDTV).
Your cables and connectors can support high-definition display. These are either:
• Component video
• VGA
Quiet mode
The Xbox 360 kicks itself into quiet mode when you watch a movie so that the console can slow its cooling system. The result isn't silence, but it's a lot closer to it than the first Xbox (which was loud).
About This Article
This article can be found in the category: