It's fun to take a tour of the Xbox 360 console. In the front, you find memory slots, the disc drawer, and more. Around back, check out the power supply socket, AV cable socket, and Ethernet port. When you're familiar with all the plugs and inputs, including the USB connections, you can plug in all your accessories in a jiffy.
The Xbox 360 console can be placed either upright (wide) or on its side (tall) when you connect it. Either way, it works just fine.
Checking out the front
Figure 1 shows the front of the Xbox 360.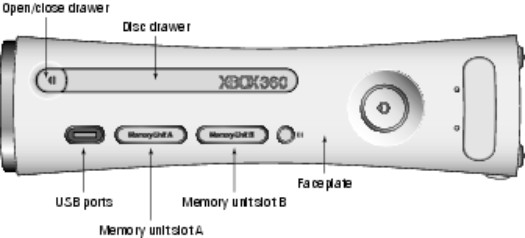 The front contains the following console gadgets that you'll use or change most often:
Back when Grandpa walked five miles uphill both ways in the snow to rent anime videos, folks called this the on/off switch.
The front USB ports are for connecting:
• A wired controller
• An MP3 music player or digital camera
• A glowing snowman — hey, you can brighten the whole room from your Xbox 360 USB port!
Disc tray (for games, DVDs, and music CDs)
Bonding button (so that you can tell your Xbox 360 console which wireless game controller is yours)
The front of the Xbox 360 console also has an infrared port that works with Xbox media remote controls.
Understanding the back
Figure 2 shows the back of the Xbox 360.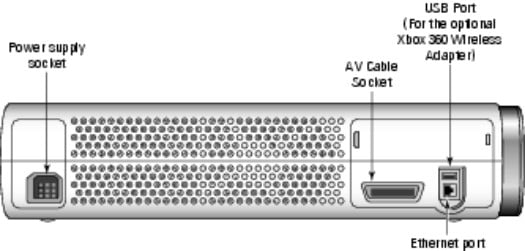 The back of the Xbox 360 console is less populated than the front, but the ports are important:
This big rectangular port is where you connect the Xbox 360 power supply.
Here's where you plug in the console end of your AV cable.
Depending on your equipment and cable, the other end can connect to:
• TV sets
• Computer monitors
• Audio systems
This rear USB port is intended for use with the optional Xbox 360 Wireless Networking Adapter, but it can also be used for:
• A third wired controller
• Any of the USB devices suggested in the preceding section
This is where you can plug in:
• Your home network
• A high-speed Internet connection
• A system link connection to another Xbox 360 console
About This Article
This article can be found in the category: