Many Kindle Paperwhite owners join user forums, where a wide variety of problems can be addressed by helpful forum members. Amazon has a Kindle product forum that covers Kindle Paperwhite and all its e-reader devices. You can access the forum in several ways. The easiest is to go to the main Kindle Store on Amazon and choose Discussions, at the top of the page.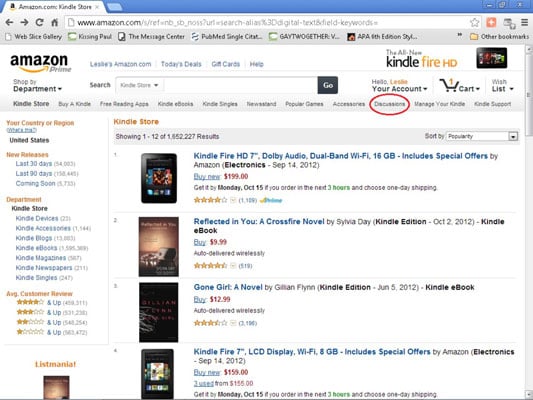 To find independent Kindle user forums, use your favorite search engine to search for Kindle user forum. Posting your Kindle Paperwhite problem in the troubleshooting area of an active forum can be an efficient way of resolving perplexing issues. Most forums have resident experts who have seen it all and can provide quick answers to common questions.
Amazon also provides a Kindle Support page with links to troubleshooting tips. Go to the Manage Your Kindle page. (Note that you'll be prompted to log in to Amazon if you aren't already signed in.) From the Manage Your Kindle page, you can access Kindle Support through the Kindle Help link or the Kindle Support option.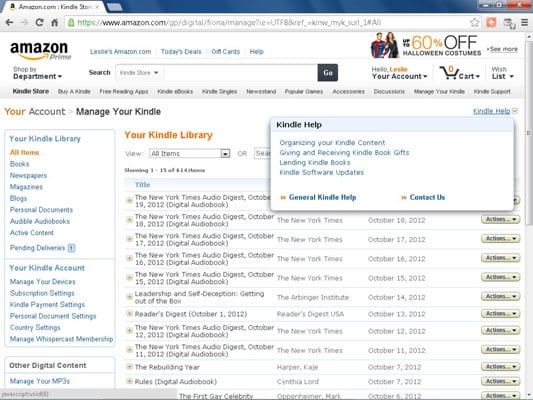 The Kindle Support page includes a selection of how-to videos. Click the link for Helpful Kindle Support Videos and then click the Kindle Paperwhite image to see the videos available for your device. These short videos cover the following common topics: getting started with your Kindle Paperwhite, using your Kindle Paperwhite, transferring content over USB to your Kindle, setting your Kindle payment method, and troubleshooting your Kindle Paperwhite.
The support page also has links to general Kindle topics, including frequently asked questions (FAQs), troubleshooting, software updates, getting started, and connecting to Wi-Fi. You can click the Kindle Paperwhite image lower on the page to see help topics specific to your device.
Your Kindle Paperwhite comes with the user guide already downloaded on the device. You can also download it from the Kindle Support page. (To download a user guide in German, French, Italian, Spanish, Japanese, or Portuguese — go to your library through the Manage Your Kindle link.
Kindle forums are full of appreciative reports about positive experiences with Amazon's Kindle customer service. These customer service representatives have a reputation for quickly resolving issues and for treating Kindle owners fairly and respectfully.
If your Kindle Paperwhite problem isn't readily resolved by basic troubleshooting steps, you may be best off contacting customer service. More than likely, a ready resolution to your issue is waiting on the other end of the telephone line. The direct toll-free number for Kindle customer service is 1-866-321-8851. Customers outside the United States should call 1-206-266-0927.
From the Kindle Support page, you can choose to have a customer service representative call you. In this way, the representative can access your account before making the call, which might speed up the support process. You can also e-mail customer service or initiate a chat session from the Kindle Support page. Click the Contact us button on the Kindle Support page to initiate help from Amazon.
About This Article
This article can be found in the category: