The wait for Apple's iPad is finally over. Apple has rolled out its highly anticipated iPad device — which the company proudly proclaims as its "most advanced technology in a magical and revolutionary device at an unbelievable price."
What does that mean? Well, to some, it means a device that combines the best features of a notebook or netbook computer and an iPod touch, wrapped up in a gorgeous, ultrathin, light-as-a-feather package. Apple claims it's the best way to experience the Web, e-mail, photos, and video.
And, with its 9.7-inch, LCD-backlit Multi-Touch screen; up to 10 hours of battery life; and the availability of Apple's iPad-optimized versions of Apple's iWork productivity suite of apps (Pages, Numbers, and Keynote), it looks like you'll be able to do real work without lugging around 10 pounds of laptop computer, charger, spare batteries, and such.
The iPad uses an on-screen soft-keyboard like the iPhone or iPod touch; but there's an optional, full-size keyboard available. And because the iPad has built-in Bluetooth 2.1, it works with the Apple Wireless Keyboard, as well.
Pictures of the iPad are deceptive for a couple of reasons. The most significant is that while most of the pictures make the iPad look like an oversized iPhone or iPod touch, they don't give you a sense of scale. So just for the record, the iPad measures 9.56 inches by 7.47 inches by 0.5 inches and weighs just 1.5 pounds (1.6 pounds for models with 3G wireless networking).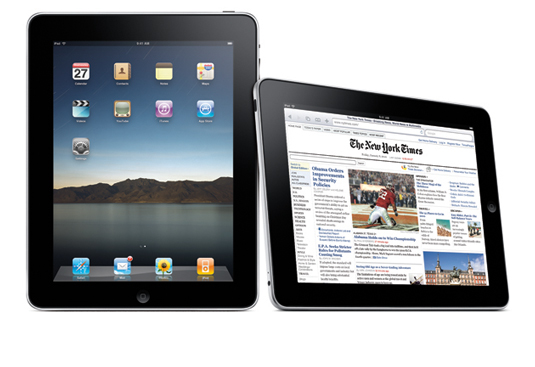 Credit: Apple Computer, Inc.
One of the coolest things about the iPad is that it can run any of the 140,000 apps in the iTunes App Store — including ones you've already downloaded for your iPhone or iPod touch. And developers are hard at work already creating new versions of their apps that take advantage of the iPad's larger touch screen.
Another cool feature is the iBooks app, which enables you to read and buy books in the built-in iBookstore. While you might balk at spending several hundred dollars on a single-purpose e-book reader like the Amazon Kindle, you're more likely to consider buying a multipurpose iPad and use it for reading books, magazines, and — perhaps — graphic novels and comics, too.
Perhaps the most impressive thing about the iPad is that prices start at just $499. For that you get an iPad with 16GB of solid-state storage and Wi-Fi wireless networking. But wait! There's more! For an additional $130 (i.e., $629) you can add 3G wireless networking. iPads with 32 and 64GB of storage are also available at $599 and $699, respectively, with Wi-Fi only, or $729 and $829 with Wi-Fi and 3G.
Wi-Fi models of the iPad ship in late March; 3G models ship in April.
About This Article
This article can be found in the category: