You already know how useful bookmarks are and how you can synchronize bookmarks from the browsers on your computer to Safari on the iPad. It's equally simple to bookmark a web page directly on the iPad. Follow these steps:
Make sure that the page you want to bookmark is open, and then tap the Action button at the top of the screen.

The Action button looks like an arrow trying to escape a rectangle.

Tap Add Bookmark.

A new window opens with a default name for the bookmark, its web address, and its folder location.

To accept the default bookmark name and default bookmark folder, tap Save.

To change the default bookmark name, tap the X in the circle next to the name, enter the new title (using the virtual keyboard), and then tap Save.

To change the location where the bookmark is saved, tap the > symbol in the Bookmarks field, tap the folder where you want the bookmark to be kept, tap the Add Bookmark button in the upper-left corner of the screen, and then tap Save.
To open a bookmarked page after you set it up, tap the Bookmarks icon in the upper-left portion of the screen. If the bookmark you have in mind is buried inside a folder, tap the folder name first and then tap the bookmark you want. If you see History or Reading List instead of Bookmarks, tap the Bookmarks button at the top of the list and then tap the appropriate bookmark.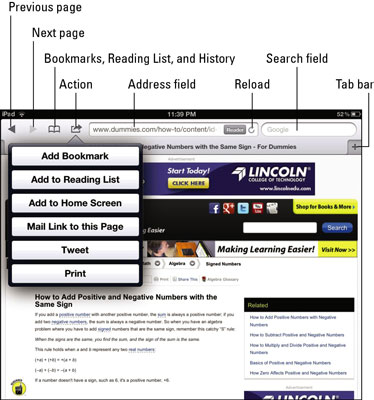 If you tapped Add to Home Screen rather than Add Bookmark in Step 1 of the preceding set of steps, your iPad adds an icon to your Home screen to let you quickly access the site. If you tapped Mail Link to This Page instead, the Mail program opens, with a link for the page in the message and the name of the site in the subject line.
About This Article
This article can be found in the category: