YouTube, the popular video-sharing site, has become part of most of our lives. So, you may be glad to hear that the built-in YouTube app on your iPad makes it easy to find and play videos from the site.
Finding videos on YouTube
Although you can go to YouTube and use all its features by using iPad's Safari browser, it's easier to use the dedicated YouTube app that's included on the iPad. This version features buttons you can tap to display different content and features using the touchscreen.
Start by opening the app and finding videos you want to view:
Tap the YouTube app icon on the Home screen to open it.

Tap the Featured button at the bottom of the screen if it's not already selected.

To find videos you want to watch, tap in the Search field.

Type a search term and tap the Search button on the keyboard.

Use your finger to scroll down the screen to see additional results.

To display the top-rated or most-viewed videos, tap the Top Rated or Most Viewed button on the bottom of the screen.

When you find a video you want to view, tap it to display it.

The video begins loading.
Controlling video playback
The video playback controls in the YouTube app on your iPad sport all the familiar playback buttons you're used to, but just in case you haven't used a player in a few weeks, here's a quick rundown:
The Play button (the triangle) is, logically enough, what you tap to get the video to play.

The Pause button is used (quite logically) to pause playback. (If the button is not visible, tap the screen in the black area on either side of the video once to display it.)

The circular button on the Playback progress bar can be moved right or left to move forward or backward in the video.
Changing views
By default, you watch a YouTube video on your iPad in the smallest of three available views. To change to larger views, tap the Play button and then tap the Full Screen button. The video displays in a full-screen version.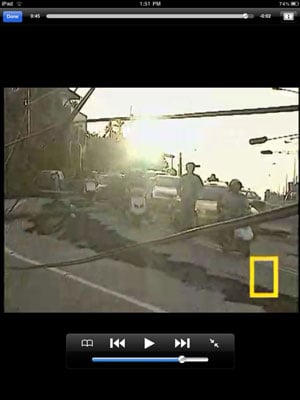 To go to an even larger view, tap the button in the top-right corner.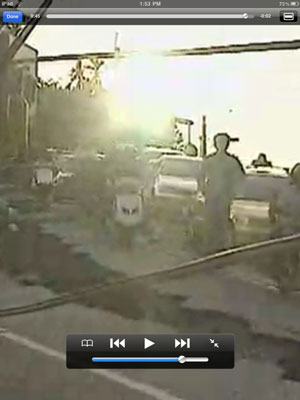 To reduce the movie back to its smallest size, tap the button on the right side of the playback controls. Tap the button in the upper-right corner to return to the medium view.
You can use the double-tap method of enlarging the playback when in either of the two larger screen formats. Double-tapping the smaller of the two moves you to the largest full screen view. Double-tapping the largest full screen view zooms out farther. But be forewarned: depending on the quality of the video, the largest zoom factor could produce a rather grainy image.
About This Article
This article can be found in the category: