iPad's Mail app offers a pretty simple interface for reading your e-mail. It displays an open message and a pane that you can use to show inbox contents or change to a different folder. When you tap the Mail app to open it, it automatically heads out and checks for any new e-mail.
When you get an e-mail, your iPad alerts you with a chime. If those e-mail-received alerts are driving you nuts, you can go to the Settings and under General, Sounds, use the slider to turn off audio notifications.
These steps take you through the simple process of using Mail to open and read e-mails if you have a single e-mail account set up on iPad:
Tap the Mail app icon located in the Dock on the Home screen, which displays the number of unread e-mails in your inbox in a red circle.

Tap a message to read it.

If you need to scroll to see the entire message, just place your finger on the screen and flick upward to scroll down.

You can also use iPad gestures such as double-tapping and pinching to reduce or enlarge an open e-mail.
If you have multiple e-mail accounts set up, you can choose which inbox to display. From the inbox that appears when you open Mail, tap Mailboxes. With several accounts set up, in addition to each account listed on the Mailboxes screen, there's an All Inboxes item listed. Tapping this takes you to a consolidated Inbox containing all messages from all accounts in one place.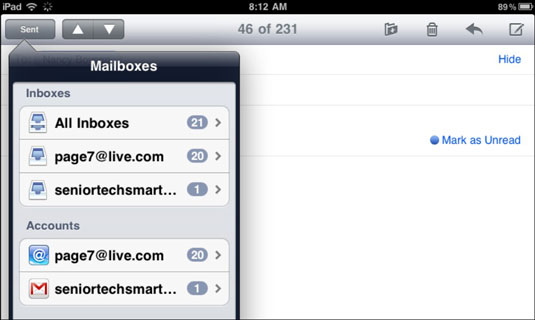 You can tap the Hide button to hide the address details (the To field) so more of the message appears on your screen. To reveal the field again, tap the Details button (which becomes the Hide button when details are displayed).
E-mail messages you haven't read are marked with a blue circle in your inbox. After you read a message, the blue circle disappears. If you'd like, you can mark a read message as unread. This can help remind you to read it again later. With a message open, tap the Mark as Unread link on the right side.
About This Article
This article can be found in the category: